Just as the title sounds surprising, you never thought this would be the case judging by how huge Facebook and Orkut are in India.
Together, Facebook and Orkut cater to about 90% of the users in the social media space. But it isn't quite the case when we talk about the mobile social networking space in India.
According to mobile analytics company Informate, the most used mobile social networking application in India is RockeTalk. RockeTalk is a voice and video-based social networking application for mobile phones available across all mobile networks.
"Users can create any combination of text, voice, photo, and video messages, share with any contacts, join communities and chat with individuals and groups, and access a variety of entertainment and content. RockeTalk makes communication between individuals and groups easy and rich, and facilitates a new form of self-expression that informs, entertains and connects people through the media they create," as explained on its website.
Orkut came in second, followed by Qeep, Facebook and Twitter. The social networking giant, Facebook stood at fourth position with less than half of RockeTalk's reach. Here is a graphical representation depicting the reach of social networking applications in India: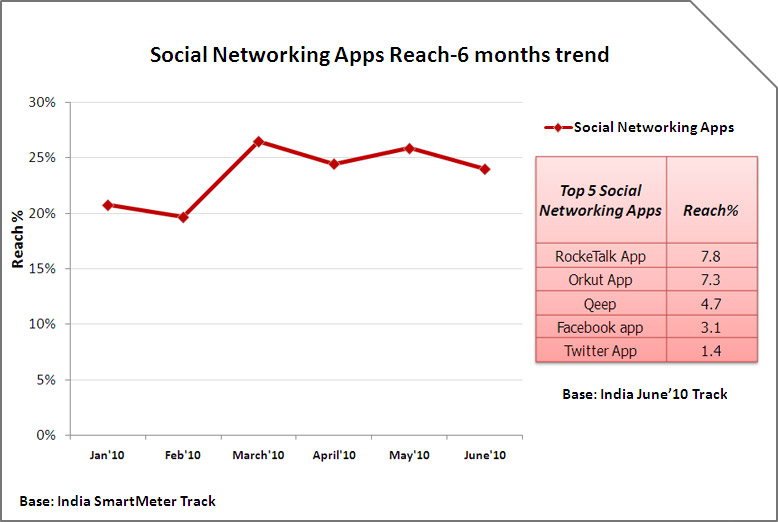 Mobile social networking in India is growing rapidly. A report released by Analysys Mason stated that the number of mobile social networking users in India was expected to reach around 72 million by 2014. This forecasted figure is close to the current number of Internet users in the country. The increase in smartphone sales and introduction of 3G network will certainly help India to reach 72 million users by 2014.
To ride on the mobile wave, Rocketalk plans to raise $10 million through a second round of  funding over the next few months. Currently with 4 million active users, Rocketalk is targeting to reach 20 million subscribers over the next 12 to 18 months. However, with Facebook being the top social network in the world, Orkut being one of the top social networks in India with a 18 million user base and Twitter surging forward at a 100%  year-on-year growth rate in India,  it is hard to predict who will be capture the mobile social networking market in India.
Mr. Karthik Srinivasan- Head of Digital Strategy at Edelman said, "I haven't used Rocketalk, so its unfair for me to comment on the social networking application. But I personally don't think there's any decent market for mobile social networking in India. It's more of a function of social networking via mobiles, which doesn't need dedicated platforms like RockeTalk when inbuilt Facebook & Twitter applications are more than adequate."
"I don't see the need to think of a new platform for the sake of mobiles alone; it has to go through the same growth pains of any social network – mobile or otherwise. Also, most mobile brands recognize Twitter and FB as default apps/widgets and install them as a pre-loaded piece. That helps their spread too," he added.
Only time will tell if RockeTalk can continue to win the mobile race.