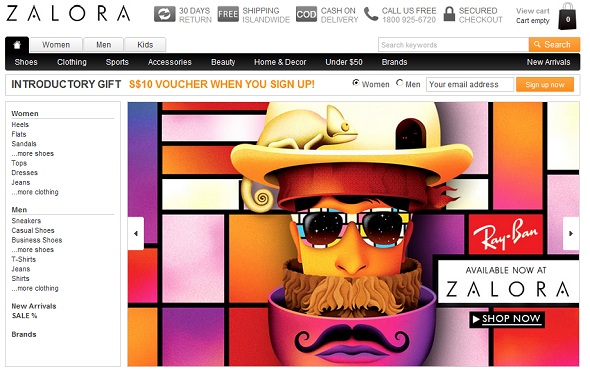 If this report by Willis Wee from TechinAsia is true, Zalora is in bad shape, and the feared Oliver Samwer visited Singapore two days ago for a marathon eight-hour "motivational talk".
These allegations are false, claims Tan Wee, managing director and co-founder of Zalora Singapore, an online fashion retailer owned by the infamous Rocket Internet.  He denies the article's suggestion that "the meeting is probably triggered by complaints Zalora has received from its customers so far."
In fact, Tan Wee reports that his German boss was in fact quite happy with progress.
"The exact conversation he had with me was: 'Tan Wee, good job, things are going well,'" he says. The visit was in fact a routine one, and this was the third time they had met in Singapore.
Since Zalora launched in Singapore and Malaysia, it has received a lot of complaints about slow delivery times on its Facebook Pages. Some items were not received even after two weeks.
While he acknowledges that many of the feedback are valid, and that they're learning, Tan Wee questions if a few Facebook comments are enough to paint an accurate picture of Zalora's health.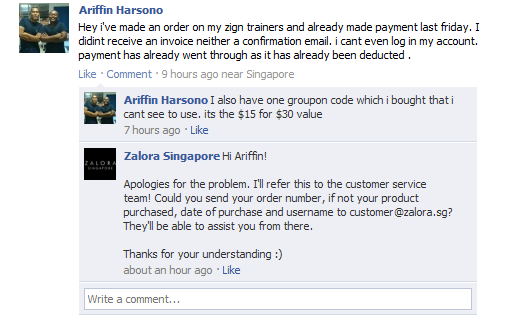 "In the retail environment… people only complain when they're unhappy. So if you pick out three quotes out of 100, and say we're in bad shape, can you call it evidence?"
The situation is quite on the contrary, he says. Many of their customers receive their orders within 48 hours as advertised, some even within 24 hours.
The portrait of Zalora falling apart due to pressure from an over-enthusiastic corporate machine appears to have no grounding.
Ever since Rocket Internet entered Southeast Asia, it has generated heated discussion among the startup community. It is a German company that is most well-known for making a killing out of creating and selling clones of the most successful Silicon Valley startups.
Many vilify them for stealing talent from young enterprises, possessing an over-aggressive and ruthless corporate culture, as well as encouraging rampant copying. Even the tech media glitterati from the West has demonized them.
But speaking to the actual people working in Rocket Internet, which owns Zalora, the picture becomes far more nuanced.
Admittedly, when SGE visited the Rocket Internet office, located in an industrial estate, it felt a little like a sweatshop. About eight workers are packed to a long desk, and there are rows of them in a large and spartan office. We estimate about 300 people, shared between Zalora and FoodPanda.
But these are not underpaid Chinese workers assembling iPhones in a remote Foxconn factory. Quite the opposite.
The engine room consists of a mostly young, diverse, and cosmopolitan workforce. Well-paid too. They come from a smorgasbord of backgrounds and work experiences, ranging from senior fashion buyers to young creatives and analytical engineers.
Tan Wee himself was a consultant at Bain & Company, a global management consulting firm, with industry experience across multiple industries. He is charged with forging together total strangers into a cohesive team, after Zalora launched months ago.
The last time Oliver visited Singapore, Zalora had 30 employees. The number has since grown. Everyone is so new to the company that  you can sneak in unnoticed and pass off as a staff.
As an environment where new people are joining the company everyday, Oliver saw the need to visit and speak to everyone.
Far from "giving an eight-hour motivational talk", he spoke for only half that length. He gave a short, 15 minute pep talk about the vision of the company, which the staff described as "inspiring". He used his pet phrase about how they are working on a "once-in-a-lifetime" opportunity.
There was a question-and-answer session too. The speech was then followed by a three hour meeting with senior management to discuss operations and plan for world domination.
Those seeking for signs of an impending insurrection might be disappointed. The mood in the office was pretty humdrum: People were working on their laptops or chatting with fellow workers. They hold pizza and beer sessions every other Friday. The office is an open, if slightly cramped, environment, with bosses sitting among the staff, giving the impression of a flat hierarchy.
Chew Xiaomin, the senior marketing executive at Zalora, likens her work experience to Silicon Valley, although she has not been there herself.
"I wanted to have a lot of autonomy, and that this place gives you that, more than any big corporate company," she says.
No doubt, it's a startup-like experience, with teams having to build the business from scratch. But its a very well-funded and well-oiled machine, and frankly speaking, the "founders" are more akin to well-paid employees than struggling entrepreneurs looking for their big break.
A Zalora staff I spoke to, on condition of anonymity, also painted a somewhat sanguine picture of the company. While admitting that there's "a lot of adrenaline" in the office environment, she seems genuinely excited to be part of something cutting edge.
"This is an Internet company, you've got to be the fastest, got to preempt and take charge. Those who aren't suitable won't stay very long," she says.
While Rocket Internet may be sucking talent from the region's tech startup scene, there's no denying that Zalora's presence could potentially benefit one group: Indie fashion labels seeking their big break.
Speaking to a couple of fashion designers, both of whom declined to be named, I found them cautiously optimistic.
Although they gripe about its high consignment rates and tough demands, Zalora is seen as an additional retail channel to push their designs out to the masses.
And who can blame them? Singapore's indie fashion labels have been generally ignored by Singaporeans in favor of global brands like Topshop and H&M. An opportunity to promote their labels in other countries is too promising to pass up.
While Zalora has a 45 percent consignment rate, in other words, they take a 45 percent commission off the selling price of every dress, fashion labels are willing to make that trade-off in exchange for Zalora's marketing muscle and growing presence in the region.
It's something competitors like Actually and A Curious Tee Pee cannot match. Generally, it's known in the fashion industry that online retailers charge a consignment rate of between 30 to 40 percent.
"After you sign an agreement and consent to the terms, you can't really complain right?" says a fashion designer who is listed on Zalora.
She notes, however, that the website can be hard to navigate and the way some brands appear on the site makes them look bad. Some are questioning whether having so many brands on one site is really a good idea. There's no proper curation and the site just appears to be a melting pot of everything.
Another fashion designer believes the high consignment rates are not an issue for larger labels, but will be a problem for younger brands.
Generally, a fashion item that costs US$25 to make will sell for no less than US$100, since they have to account for sale periods as well. After Zalora takes a slice of the profits, what's left is US$30 for the designer.
Tan Wee points out that Zalora incurs a lot of hidden costs in production and marketing. They also place a premium on customer service, citing it as their competitive advantage against other blogshops.
And despite putting up a brave front, he admits that starting Zalora in Singapore has not been without hiccups. Hiring good staff is his biggest challenge, along with the day-to-day matter of building and optimizing their logistics system.
Nonetheless, he doesn't mind the sparse office and obscure location, which is surely a departure from his previous job.
"Everyday I feel like I'm having fun working here, and that's sufficient for one to be engaged and happy."
Images: kalleboo and marissaorton