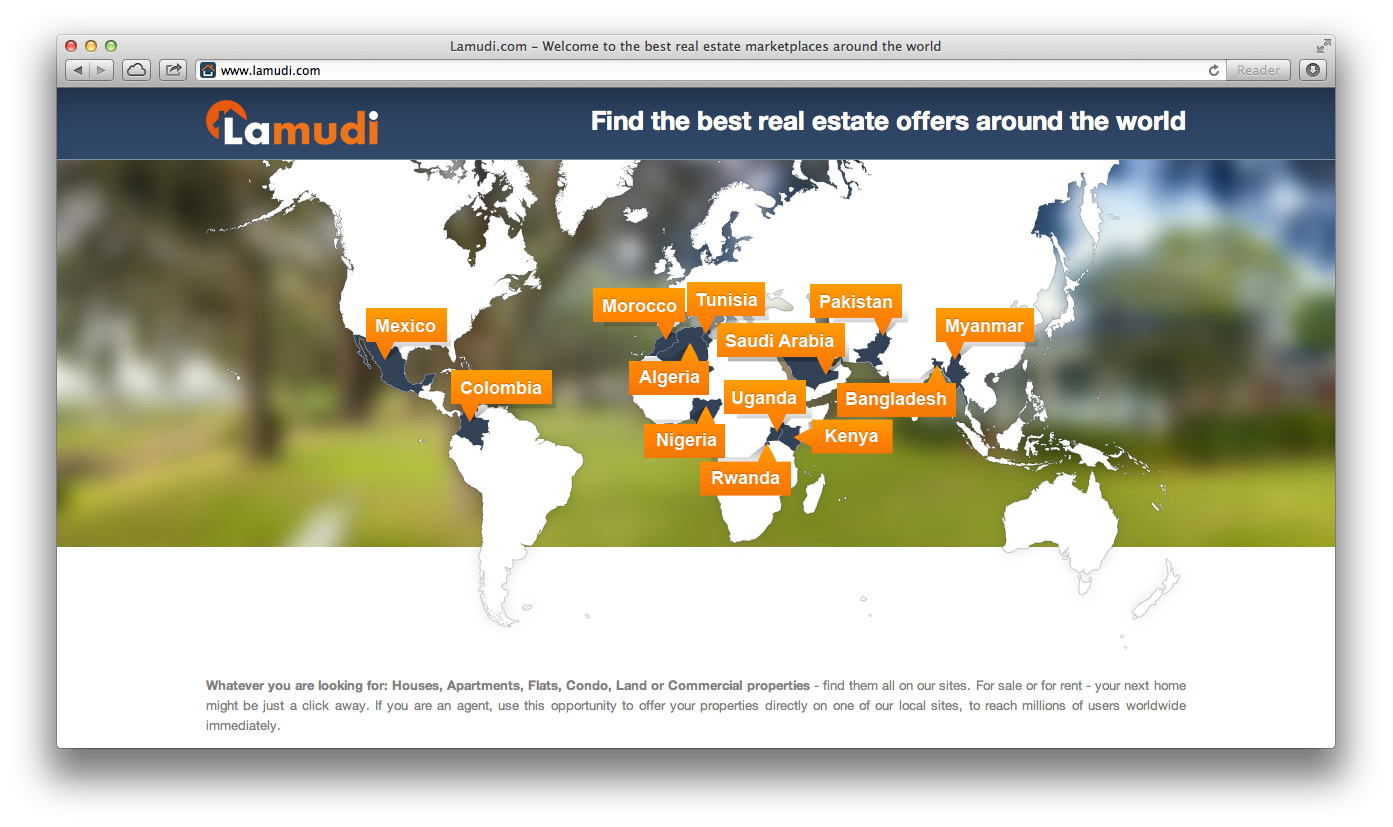 The competition in Asia's property search space has intensified as Rocket Internet's new property search website Lamudi raises US$7 million for its Asian operations. The new round of funding comes from Tengelmann Ventures, the investment arm of international retailer Tengelmann Group.
Lamudi operates in 21 countries, including Myanmar, Indonesia, Philippines, Pakistan, and Bangladesh in Asia. The site, which focuses on emerging markets, allows home-seekers to buy and rent homes and property agents to sell them. In total, the business has over 200,000 listings globally, effectively doubling since February.
Lamudi has not revealed any other figures about its operations, which is normal for Rocket Internet companies. But if the usual pattern of early Rocket Internet companies applies to Lamuni, we can expect it to be in the red for a few years as it embarks on an aggressive marketing campaign.
(See more: Zalora lost 70 million Euros in 2012, projects profitability in 2015)
While Rocket Internet is one of the larger ecommerce players in Southeast Asia in verticals like fashion and electronics thanks to Zalora and Lazada, property in Asia is a totally new field for the German entity.
In the region, it would be competing against established players like PropertyGuru, which is gunning for an IPO, as well as iProperty. Both entities have a presence in Indonesia while carving out disparate parts of emerging Asia for themselves. PropertyGuru has launched in Thailand and Vietnam while iProperty has Indian and Philippine sites.
A number of other newer, smaller ventures are also competing for a slice of the nascent market. Lamuni has three other competitors in the Philippines (not counting iProperty), while it will also have to face UrbanIndo, which just raised a series A round, in Indonesia.
PropertyGuru is leading in Indonesia in terms of site visits at over 200,000 a week for Rumah.com, according to SimilarWeb. Meanwhile, iProperty's Rumah123 has also broken the 200,000 mark recently and UrbanIndo has cracked 100,000.
The Philippines market appears to be much smaller. SimilarWeb places Property24 as the market leader with around 40,000 weekly visits with ZipMatch trailing at 15,000.