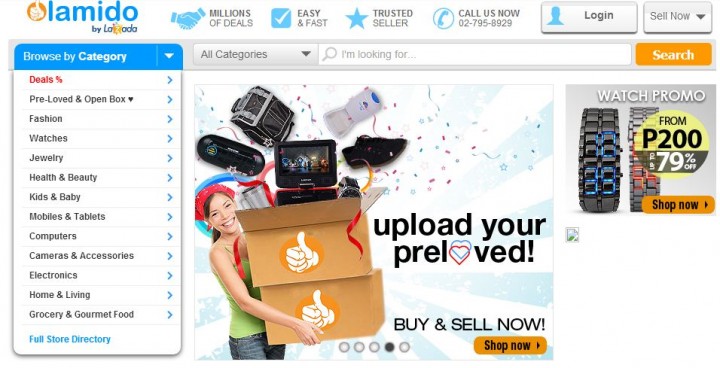 Earlier on, Rocket Internet has already demonstrated its commitment to developing a strong e-commerce foothold in Southeast Asia. Today, it looks like it has quietly launched its consumer-to consumer (C2C) marketplace Lamido in the Philippines.
Lamido allows any individual to put a new or pre-loved item up for sale, and lets buyers connect directly with the sellers to negotiate payment and delivery terms. In the Philippines, it's very similar to the C2C classifieds site Sulit.
In November, we noted that Lamido also made a quiet entry in Indonesia. Lamido co-founder Thomas Damek says it aims to be "the leader in the market following the Lazada trend in the business-to-consumer space." He adds:
There is huge potential in the C2C marketplace space in Philippines and in Southeast Asia. […] We are seeing a strong interest from both informal sellers active on Facebook, BBM and other social media and chats as well as established market place sellers.
As part of the Lazada Group, Lamido carries with it the online marketing strength and analytics insights of the former entity.
Lamido declined to disclose its number of registered users at this point. Damek says, "rather than focusing on the number of users, we want to focus on great prices and quality of the service."
Currently, Sulit leads this market in the Philippines with 2.6 million registered users. Facing a strong competitor that's been active since 2006, it will be interesting to see if and how Lamido can carve out a space for itself in the market.
Lamido is also active in Vietnam and is set to follow Lazada's path across Southeast Asia.
(Editing by Josh Horwitz)