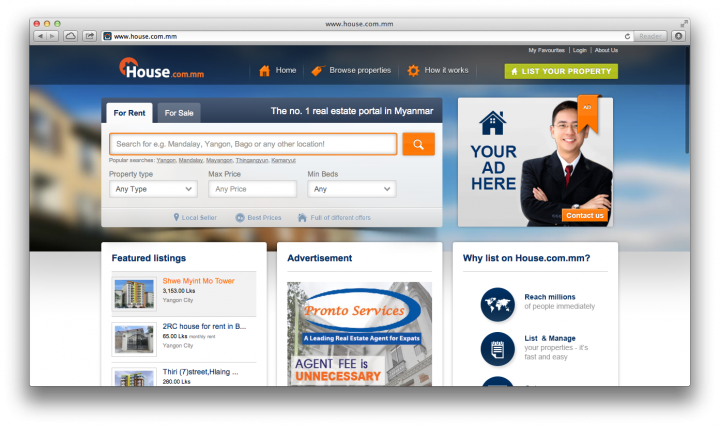 Rocket Internet, the startup generator business that you either love or hate, is now boosting its presence in newly opened up Myanmar. One of the German-based company's ventures there comes in the form of real estate classifieds site Lamudi.
Lamudi has been launched in several countries over the past five months, some under different domain names. The one in Myanmar is under the domain name House.com.mm. This week, Rocket Internet is officially launching the Lamudi branding as a way to consolidate all its real estate listings startups around the world under the same name. The Myanmar site hasn't been renamed yet, but it's a notable example of what Rocket is trying in Myanmar.
Lamudi is now operating in 12 emerging market nations, with more to follow.
Building a tech startup in Myanmar has its own challenges as the country only recently opened its doors to the world. The country doesn't have too many internet cafes just yet to accommodate its 50 million population. Its smartphone and mobile penetration rates are also low. But with the arrival of more players in the region like telcos Telenor and Ooredo as well as Thailand-based e-payment gateway 2C2P, Rocket will want to get in early – a favorite startegy of theirs.
Rocket Internet will have to educate consumers and the market about the potential of the web in Myanmar, for both real estate sellers and buyers. How's its progress so far? Right now there are 366 properties listed on Lamudi's Myanmar site.
Rocket Internet has three other ventures in Myanmar, which are all classifieds sites: for cars (Motors.com.mm), jobs (work.com.mm), and a Craigslist-style general listings site (ads.com.mm).
Lamudi is present in four Asian countries so far: Myanmar, Bangladesh, Pakistan, and Saudi Arabia.
(Editing by Steven Millward)