Although I can rarely afford to actually do it, I enjoy traveling. So, like many others, sometimes I like to "travel" vicariously by flipping through the travel albums of my Facebook friends to see where they've been. So I was intrigued when I learned about Roam7, a Singapore-based startup that maps your friends' travels out in the name of helping you plan your own trips.
Although Roam7 pitches itself as a site to get travel advice and plan trips from, I didn't find it at all helpful for this. My friends have been all over the world, but they post photos, not hotel recommendations, and you would be hard-pressed to find much practical use for the site in trip-planning unless your friends left very detailed captions on their photos or you were just using it to preview photos of potential destinations.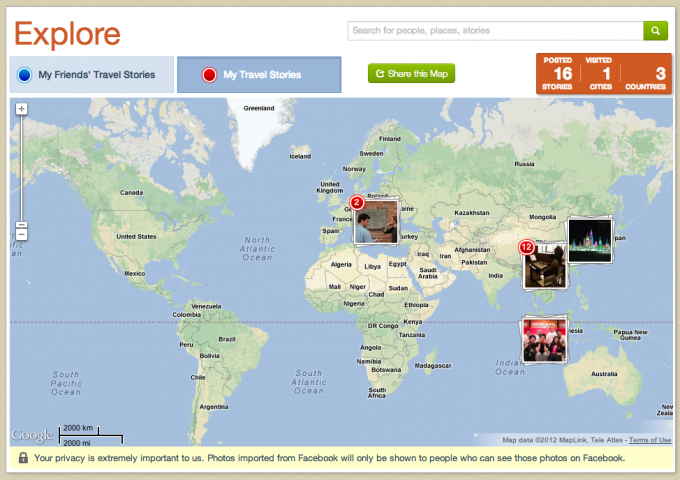 That said, it's still pretty cool. You just log in via your Facebook account and you're presented with an interactive map and photos overlaying all the places your friends have been. You can click on a location to view the photos, and you can also choose to view a map of your own travels (mine is pictured above) which is rather fun. I had a good time hopping around the map looking at where friends had been, and I have to admit it did get me thinking about traveling even if it's no replacement for TripAdvisor just yet.
I did also come across a few bugs — a couple pages loaded that seemed to have no content — but that's par for the course for a startup and I'm sure it will be worked out soon. The Roam7 team already has a pretty neat product here, and while I don't see it replacing TripAdvisor the way they hope it does, that doesn't mean there isn't a place for this kind of tool, especially if the photo-viewing feature could be made into a slicker, more enjoyable experience for those who simply want to browse nice travel photos.