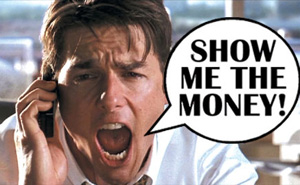 It is very common for entrepreneurs to pitch to investors for money. So common that there are even reality shows for it. But what if the reverse happened?. Instead of entrepreneurs pitching, the investors would pitch. The Reverse Pitch, an event that's happening in Bangalore, India, is doing exactly that.
Investors will be given five minutes to talk about themselves in front of a group of selected startups. One of the organizers, Subhendu Panigrahi, explained to me that the investors' pitch will typically include their operational experience, ticket size, sectors they are focusing on, investment thesis, and portfolio. A Q&A will follow after the pitch as the entrepreneurs grill the investors. That sounds fun.
The response to this topsy-turvy idea has been good. So far, institutional investors include (take a deep breath) Accel Partners, Inventus Capital Partners, India Innovation Fund, IndoUS Venture Partners, India Venture Partners, Citrix Startup Accelerator, Nirvana Venture, Tempus Capital, Blume ventures, Canaan Partners, and Qualcomm Ventures. The angel investors who are participating are Palaniswamy Raj Rajan, Ravi Trivedi, Venugopal Sathyanarayan and Steven Lurie.
The startups are chosen based on innovations, which could be the technology, the idea as a whole, or the operations. This reverse pitch concept isn't new though. Total Access and AOL's New York VC Demo Day did the reverse pitch a couple of years ago. Subhendu explains:
[…] for the ecosystem to flourish, it needs an honest two-way communication and that is what we are trying to create here. Though skeptical in the initial phases whether Indian investors will embrace this event or not, once we got a warm response from investors we went ahead to execute it. The purpose of Reverse Pitch is to provide a transparent platform where both investors and entrepreneurs get to see the best among each other, and develop relationships which can contribute to a very healthy ecosystem.
The invitation-based event is happening next Wednesday on March 28 at the Microsoft Signature Building in Bangalore.
[Image credit: MyChinaConnection]