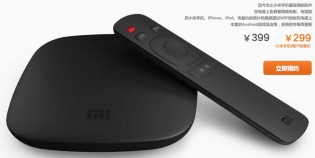 China's Xiaomi has proven itself to be pretty great at selling phones, but the company surprised a lot of people when it announced it would be selling a set-top box last fall. Unfortunately, shortly after that announcement came the news that the box wouldn't be going on sale after all as it had run afoul of China's rather strict regulations about television. Now, according to a Sina Tech report, the device is finally back in business and is head for its first limited sales on April 9th.
Insiders told Sina Tech that the device had been formally approved for sale, and that it will go on sale for the first time on April 9th, a day Xiaomi has designated "Mi Fans day" and on which it will also be selling its smartphones. That sale is likely to be quite limited, however, and it's not clear when the box might be available for sale again after that.
The real question, though, is whether or not the service has been weakened as a result of the regulatory intervention. By law, Xiaomi was forced to partner with one of a few state-approved operators for online TV, and the company went with CNTV, CCTV's online arm. It's not yet clear what the effect on content has been, but an insider told Sina Tech that Sohu's video content had disappeared from the platform but other video content like Tencent's video library was still accessible. Music features like Douban also appeared to still be available, but we'll probably have to wait until April to be sure of what the final picture looks like.
We have contacted Xiaomi for comment on this story and will update this post when we hear back.
(via Sina Tech)