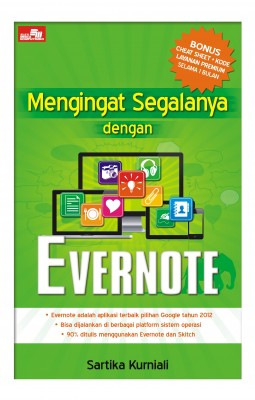 Since making the Indonesian language available in its product in November, a few people have been wondering what plans Evernote has in store next for Indonesia. A few company representatives, which include general manager for Asia Pacific, Troy Malone, and director of market development Asia Pacific, Linda Kozlowski, came to the country and held a meetup on Sunday where they also shared a few updates regarding Indonesia.
Kompas cited Linda a few days ago as saying that there are around 350,000 Evernote users in Indonesia, that is almost 200 percent growth since June of last year. Since then, we've heard that Evernote now has two ambassadors for Indonesia, the first one is a well-known chef, Sandra Djohan, while the other is internet book author Sartika Kurniali (1).
During the Evernote meet up, Sartika also promoted her latest book which talks about how to use Evernote in Indonesian, titled "Mengingat Segalanya dengan Evernote" (meaning "Remember Everything with Evernote") (pictured above). Sartika shared her interview with Troy from that book regarding the company's growth and plans for Asia Pacific:
Evernote is growing globally, how is it going in Asia and in contrast to other regions?
Troy: Evernote is growing rapidly all over the world. All of this growth has been through one enthusiastic user telling a friend about their new productivity tool, Evernote. Growth in Asia happened early on and started at the fastest pace in Japan. When the management team saw the swiftly growing user numbers in Japan, Evernote established a small team in that country to encourage user growth and engagement. We have taken that approach throughout Asia and the rest of the world. After Japan's explosive growth, Korea, Taiwan, Singapore, Hong Kong, and many other areas in Asia started to experience similar growth. Currently, we are noticing a sharp rise in growth throughout Southeast Asia in countries like Indonesia, Malaysia, the Philippines and Thailand. Going forward we expect continued growth in these countries as we have only scratched the surface of the broader population that is squickly taking to smartphones. About two thirds of our users are outside the United States.
What does Evernote have in store for its Asia based users, and especially in Indonesia?
Troy: You can expect to see more localization out of Evernote going forward. Because we are a platform and provide an open API to the marketplace, we plan to become more local through partnerships with local developers. We provide the platform for human memory and our API partners create apps that reflect what that means to the local marketplace. You can also expect to see many more partnerships with local companies both large and small. Evernote's brand is respected and attractive to business partners in Asia and we will continue to look to partner with interesting companies that can provide compelling use cases to our users.
So far, the book Sartika published could most probably be the first Evernote book written in Indonesian. This can be one of the catalysts to Evernote's continued growth in the country, and the aforementioned localized interface will help that cause as well.
Besides having its offices in Japan, China, Korea, and Taiwan, the American-based company is planning to open its fifth Asian office in Singapore soon. And it looks like Evernote's Chinese brand yinxiang Biji is seeing tough competition from Netease's Evernote-like cloud notes service Youdao Yunbiji which hit the eight million user mark in December.
---
Disclosure: Sartika has written a guest post at Tech in Asia about Evernote.  ↩