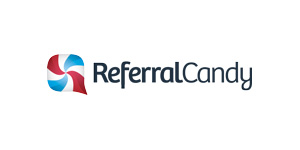 Singapore-based ReferralCandy is an app that makes referral marketing easy to set up and measure.
Its referral structure is modeled after Dropbox's two-sided incentive referral program. For Dropbox users, this will be easier for you to grasp.
Here's how Dropbox's referral program works. Users who successfully refer their friends to sign up for Dropbox get extra storage for their own accounts. And friends who sign up under the referred links will also get more storage compared to signing up via the homepage. It was a huge success for Dropbox: the number of users increased by 60 percent and 35 percent of Dropbox's daily new signups come from referrals.
Now, wouldn't it be awesome if we could replicate this successful referral model for businesses without much hassle? ReferralCandy has done that and has created a platform to provide businesses with a plug-and-play solution. Zach C, the co-founder of ReferralCandy, explained the referral process to PO Tech Asia with this example:
John makes a purchase at Acme Toy Store. The ReferralCandy app detects this purchase, and sends out a referral invite email to John to invite him to Acme Toy Store's referral campaign. (Note: The email is sent immediately while the brand is still fresh in the consumers' mind. This increases the chance of him/her taking actions — reading or sharing)
The referral invite email contains a link that John could forward to his friends, or he could also share the offer on Facebook/Twitter with the click of a button.
John's friend opens the email, clicks on the link and is brought to a landing page where he clicks through to go to Acme Toy store.
John's friend makes a purchase at Acme Toy Store using the discount. ReferralCandy's system detects this and sends a reward to John for the successful referral.
ReferralCandy has gotten quite a bit of praise from those who have adopted it. A case study from Okabashi, the U.S' largest manufacturer of sandals and flip-flops, who is a ReferralCandy client, revealed that the start-up's referral program is one of its top ten external traffic providers to its site. Sales increased shortly after a week of implementation and visitors referred from ReferralCandy spent 13 percent more time onsite than regular web visitors.
"Besides Okabashi, we also have Ferns 'N' Petals, one of the leading flower delivery companies in India, as well as hundreds of other online retailers on our service," said Zach.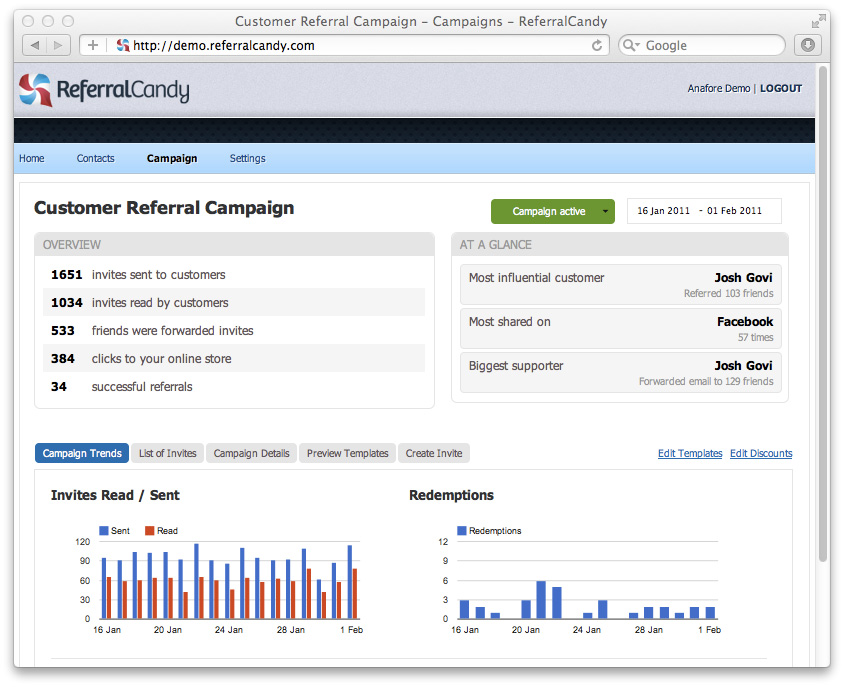 ReferralCandy's backend looks sleek. It tracks the number of referral invites sent, right up to the number of people who forwarded, clicked, and converted. It also tells its clients who are the most influential customers and biggest supporters, so brands can continue to reward those loyal users.
ReferralCandy's parent company is Anafore which has recently attracted investment from a co-founder of Skype and iXiGO's initial investors. Zach explained that the funds will be used to scale up its marketing efforts, develop new product features, and grow the company. He added:
We have a product that works and one that online retailers see value in and are willing to pay for. Right now, we're scaling our marketing efforts to reach out to more online retailers in Asia and around the world who we can help. Eventually, we want to become the brand that first comes to mind when you think of referral programs.
What a simple and awesome product – and it is made in Singapore, which is neat.