Referral marketing startup Anafore has just secured their first round of seed financing from BAF Spectrum, engineering co-founder of Skype Toivo Annus, and SPRING SEEDS Capital – a wholly owned subsidiary of SPRING Singapore that co-invests in local start-ups.
Anafore's referral marketing solution plugs into a merchant's existing e-commerce platform such that after a purchase has been completed, the buyer receives a coupon from the merchant with a discount that can be used at the online store. The buyer then shares this coupon with her friends to give them a time-limited opportunity to purchase the merchant's products at a discount.
Merchants can then track the referrals made using Anafore's solution online: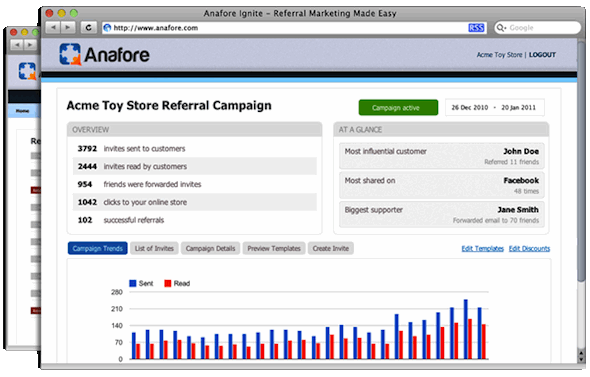 Ecommerce platforms currently being supported include Amazon, bigcartel, Etsy, Magento, Shopify and Volusion.
Started in 2009 by principal founder and CEO Dinesh Raju, Anafore had previously raised a pre-seed round under the iJAM programme by the Interactive Digital Media programme office (IDMPO) with the incubator SiTF (Singapore Infocomm Technology Federation).
Dinesh says, "The rise of social networking gives us an unprecedented ability to connect merchants and buyers more efficiently and make irrelevant ads a thing of the past. We're excited about this partnership with BAF Spectrum which gives us an incredible opportunity to realize this vision."
As part of the investment round, BAF Spectrum's William Klippgen (Executive Director) and Sanjeev Shah (Managing Director) have joined Anafore's Board of Directors.
"Anafore is on the cutting edge of smart, online marketing solutions. They provide a compelling value to any online merchant by instantly increasing sales. We plan to work with the strong founding team to develop a suite of next-generation social network-powered tools to improve further the way buyers and sellers interact online", said William Klippgen, Executive Director of BAF Spectrum. Mr. Klippgen is one of the co-founders of European shopping mega-portal Kelkoo (acquired by Yahoo!) and is leading BAF Spectrum's investment portfolio in digital media start-ups.