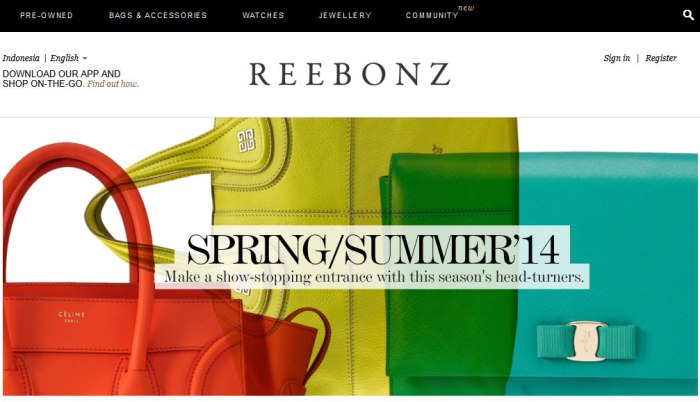 (Updated on June 19th: We've added some additional details and a revision below)
Poverty is a big problem in Indonesia. However, companies don't find this an obstacle when reaching out to Indonesia's wealthier citizens. Although this group is small, brands targeting them can grow if they adopt the right strategies – which is what luxury estore Reebonz is doing.
Reebonz sells bags, shoes, and accessories from famous designers. It stocks labels like Burberry, Chanel, Gucci, Hermes, and Prada. Prices range from IDR 1.1 million (US$93) to IDR 335.5 million (US$28,276), and 90 percent of its customers are women.
Reebonz began in Singapore with Samuel Lim, Daniel Lim, and Benjamin Han as founders. The company expanded to Indonesia at the end of 2011 after seeing strong demand from Indonesians for these premium products. Indonesians, after all, love to spend their weekends in Singapore to shop.
The Reebonz Indonesia team tells Tech in Asia that its localized website attracts 6,000 to 7,000 unique visitors each day and an average of 900,000 page-views a month. It has 230,000 registered users, and has an average purchase value per user in 2012 of about IDR 3.5 million (US$295) to IDR 4 million (US$337), which increased to around IDR 7.5 million (US$632) in 2013. Besides Jakarta, Reebonz also sells to Surabaya, Bali, Batam, Manado, Ambon, and Makassar.
See: Buying and selling secondhand designer clothing just became a whole lot easier
Here are the five strategies that Reebonz is using to find its niche audience in the country:
1. Offering lower prices
Yanly Riky, the Reebonz Indonesia digital marketing strategist, says that its biggest competitors are boutiques and sellers on Instagram. Reebonz responds by offering prices which are 10 to 30 percent cheaper than the competition. Reebonz can do this because it buys in bulk from brands directly and offer items from past seasons' collections.
2. Credit card promotions
Reebonz, together with several banks in Indonesia like ANZ, Danamon, and Standard Chartered, offers credit card and installment payment schemes as well as cash back promotions. Reebonz's data says 60 percent of its users now pay using credit cards while the rest pay via bank transfer.
3. Joining major sales events
Reebonz takes advantage of various major sales events to reach customers who want to see the products before purchasing. The team joins offline sales events every three months or so. There are also web-based events, such as the Jakarta Online Great Sale where Reebonz will collaborate with other ecommerce players like Lazada and Berrybenka. Reebonz will give a discount of IDR 487,000 (US$41) for each product at that event.
4. Offering pre-owned products
Reebonz sells pre-owned items, and this makes it unique. It appeals to customers on tight budgets and those seeking discontinued products. Secondhand items make up less than 10 percent of Reebonz's total sales. The pre-owned products are divided into categories based on their condition and price.
5. Online ads
Reebonz spends big bucks on Google Ads by using keywords which are valued up to IDR 10,000 (US$0.84) for each click. The method is effective: it sees a conversion rate of 20 percent from search to member acquisition.
Beyond the web, Reebonz also created a mobile app for iOS and Android. Currently, the app has 110,000 users in Indonesia. Reebonz's data shows that transactions on the mobile app contributed 10 percent of Reebonz's total revenue in 2012, and that increased to 30 percent in 2013.
Unfortunately, Reebonz requires all users to become members before they can browse the site. This is quite irritating to some people and might drive some new visitors away – despite the convenience of using Facebook to register. (Update: Users no longer need to register before they can access the Reebonz website) In Indonesia, Reebonz is competing against VIP Plaza and Brands Fever.
---
This article was first published on our Indonesian site Tech in Asia ID.