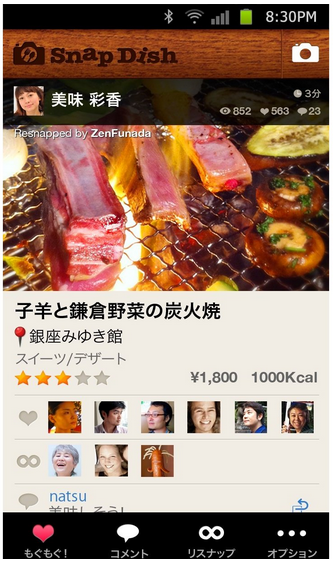 SnapDish, a recipe sharing app designed by Japan-based Vuzz, announced today that it has launched on the Kindle Fire. It has also added supported for seven languages, bringing the total to 11.
The mobile social network is like an Instagram for food. Users can snap pictures of their home-cooked food with the app, beautify the photos, and share it with their friends. They can write down their recipes to accompany the pictures, and others can 'like' or comment on these food posts. The newly included languages are: Thai, Indonesian, French, Spanish, Italian, German and Portuguese. Its existing lineup consisted of English, Japanese, Chinese (Traditional and Simplified), as well as Korean.
Prior to the Kindle Fire launch, it was available for free on Android,  iOS App Store, au Store and qiip fro Japan, and T Store from Korea.
Since launching in May 2011, SnapDish has accumulated 700,000 downloads in over 82 countries. The mobile social network is predominantly used by people in Japan, although it is seeing 30 percent of downloads and photo posts coming from outside the country.
So far, it has received 12M 'Yummies' — the equivalent of 'likes' — and 1.9M photo posts.  2M of those Yummies came in the past month alone, and the app has more recently been averaging 7,000 posts a day.
Between 35 percent to 40 percent of its registered users converted to become monthly actives, although the company is unable to disclose exact numbers.
The last time SnapDish shared traction figures with SGE was in June 2012, when it had 200,000 registered users and 120k active monthly users. Out of these users, it got about 3000-3500 posts and 20k-25k likes daily.
Last year, it also signed a partnership with Chinese social network RenRen that enabled Chinese SnapDish users to share their photos to RenRen from the app.
SnapDish is similar to Burpple, another food-oriented Instagram-esque app from Asia which recently secured over USD 500k in seed funding. Based in Singapore, the app logged over 150,000 'food moments' in November 2012 within seven months of launch.