In the past few days, I bet that, if you live in Thailand, there's no way you've not heard of the "Read for the Blind" campaign. It's arguably the most talked about campaign/application right now. The program started on October 1, 2013 but it already has over 17,000 likes on Facebook so far. The program doesn't have a website, so Facebook is the main page.
Essentially, it enables the sighted to record themselves reading a book, which will eventually be converted into audio books and sent to the visually handicapped.
The app, which is available both on iOS and Android, is made in partnership with Google, Samsung Galaxy, SCB Bank, and Thai telco AIS.
How did the app become so viral?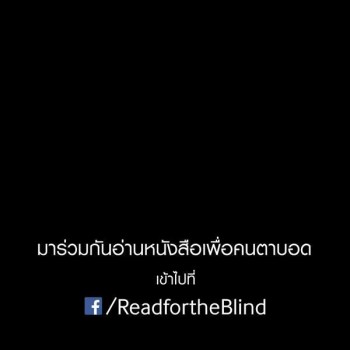 The campaign first went public at the beginning of the month at its opening event at Paragon, a mall in the heart of Bangkok. Then later on, celebrities caught on and started talking about it. On the 15th, it created "Blind Happening" by asking everyone to share a solid black picture on their social channels and use the #ReadfortheBlind, #RFB, and #อ่านหนังสือให้คนตาบอด hashtags to create awareness.
Thai celebrities then shared the app on their social channels. The image was shared on Instagram over 1,200 times with the above hashtags, and many more times without the right hashtags. Online influencers such as Jakrapong, Kafaak, and Khajochi have actively tweeted about it. Of course, just the retweets of these three combined reached at least 10,000 Thais in just a day. Thai Airways, which isn't even a partner of the app, also tweeted about it.
การบินไทยขอเป็นอีกหนึ่งเสียงสนับสนุนสิ่งดีๆ ค่ะ #ReadForTheBlind ใครโหลด app นี้และเริ่มอัดเสียงอ่านแล้วบ้างคะ? pic.twitter.com/pr1ZwOH8RW

(Translation) Thai Airways would like to voice support for a good idea, #ReadForTheBlind. Who else has downloaded this app and started recording your voice?

— Thai Airways (@ThaiAirways) October 16, 2013
Apps for the blind are not completely new. We've seen them in Singapore with MySmartEye and Lend An Eye, but I believe Read for the Blind has hit the market at the perfect time. October 14 was World Sight Day. Plus, I can easily presume that this app became viral in Thailand because it hits the right channels and the right audience. Instead of going for an old medium, social media is the way to go for Thais, who are very active on Facebook and Instagram. Moreover, we tend to believe what our celebrities say. So once you get some of them to start setting an example and post it on their social channels, I can guarantee, if the program is good, the Thais will follow.
How it works
Basically, you just have to download the app. Then you choose the category of books you want to read. Books you pick will be added to your reading list. Then just read it. You can always pause to do something while you read a book. When you make an error, the app allows you to edit it. Once it's done, just click upload. (I recommend uploading via wi-fi if the file is big). Then the voices will be sent to a server. The virtually impaired can call 1414 to listen to the books, magazines, anything we've read and shared for free.
Here's the full instruction (in Thai).
The cool part of this is the collaboration. If you see that someone else has started to read a book, but hasn't finished it, you can pick up from where he or she left off. Once the book completed, you can share your efforts on Facebook or Twitter.
Although the app is only available in Thai, I will keep you posted as to when it's available in English. It'd be great to pick up an English instructional book and teach the visually impaired how to speak English as a second language.
I believe it's just a matter of time before this app becomes number one on the app stores in Thailand considering how viral it is right now. I plan to join this program and start reading for the blind soon. If you have done so or plan to, share your thoughts on it in the comments.
(Editing by Paul Bischoff)