The internet lets you rate a lot of things: restaurants, apps, movies, asses. And now there's one more service that you can evaluate – thanks to the new TaxiCrab app – and that's Shanghai taxi drivers.
Created by Shanghai-based startup ExploreMetro, it's an Android and iPhone app (pictured below) that lets you rate Shanghai cabbies on their driving skills and professional appearance. And their personal hygiene. All you have to do is input the driver's municipal taxi license – which should be on a plaque on the dashboard – into the app, and then check boxes for things like "scenic route" (a shady driver who takes you the long way round to make the fare larger) or "spitter" (for expert expectoraters – yes, that's a thing in China).
Eventually, this'll create a user-generated database of Shanghai taxi drivers, giving them a score across all TaxiCrab users that they've ferried across the city. I've never had any major problem with a cabbie in Shanghai, but it's good to know there's a resource where you could be forewarned of one who is, say, a rogue racer.
ExploreMetro's Matt Mayer explains that the new app was built to solve a personal problem – which he reckons is a good way to approach new product development. He adds:
Six years ago when I first arrived in Shanghai there was no good online metro map of the Shanghai Metro. So, I sat down and created one, which became ExploreShanghai.com. I got lots of great feedback from people who used the map, so expanded it to six other cities, and also created iOS and Android apps.

TaxiCrab is initially also an experiment. Complaining about taxi drivers is a shared experience for many people who live in Shanghai, so I wanted to create a light-hearted way for people to share data about their experiences, good or bad. I'll be guided by feedback from people using the app whether to keep this as an amusing toy, or expand it into something bigger. I'm also planning to analyze the data and share trends. And I have lots more ideas! Who wouldn't love an app which would help them find a taxi in the rain, for example?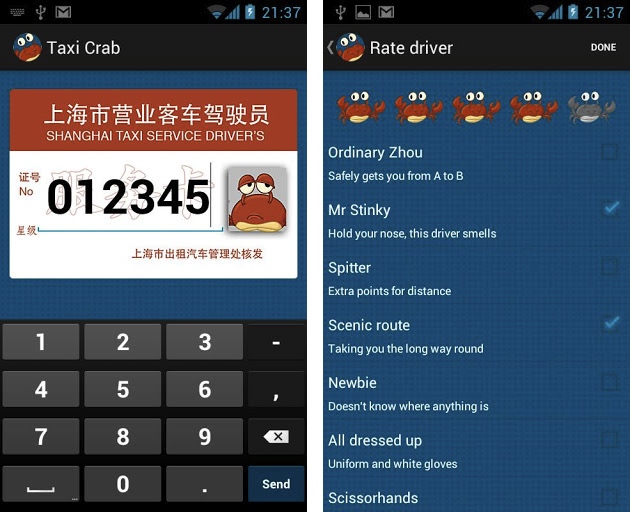 Matt's core company is ReignDesign, which he describes as "a bootstrapped, ambitious, multicultural, mobile design and development studio" that's based in Shanghai and now employs 10 people. Clients include the likes of Porsche and WeightWatchers.
To start rating your driver, get the Taxi Crab app for iOS or Android from its homepage – from which you can also check out the startup's array of excellent free subway apps.