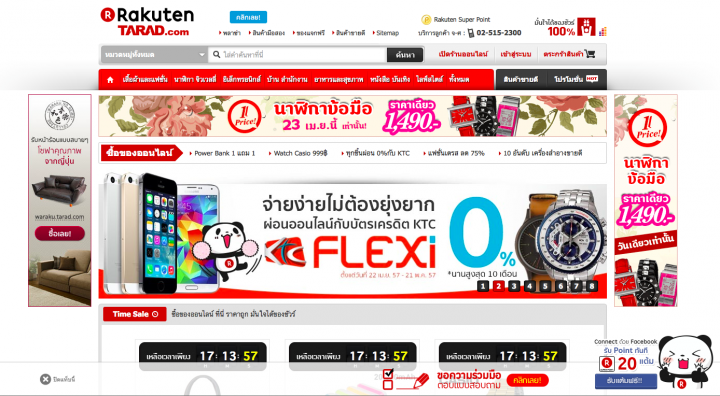 At the end of last year, we noted that 2013 was a year of booming ecommerce in Thailand. It seems like the momentum is still there and getting even stronger, especially in the area of mobile commerce (aka m-commerce).
According to Rakuten Tarad, the Thai branch of the Japanese eshopping titan, the site saw that over 53 percent of its viewers in Thailand are on mobile – that's from January to March this year. That means the estore has crossed over from mostly PC to mostly mobile visitors. Rakuten Tarad saw growth in sale of 80 percent and website visit of 105 percent in the same period of time. But the company declined to reveal the ratio of mobile-based purchases on the Thai site.
Pawoot (Pom) Pongvitayapanu, the founder of Rakuten Tarad and the president of the Thai E-Commerce Association, says, "With the increase in smartphone penetration rate, it makes sense that people rely on their cellphones to search sites before making the buying decisions."
Bearing in mind that convenience is the key to success, Rakuten Tarad offers alternative ways for customers to pay besides using credit or debit cards, such as paying for online purchases at Counter Service stores, which are scattered (over 7,000 branches) across the country.
Rakuten's (JSD:4755) Thailand estore has had success when it partnered with mobile chat app Line to run a sales promotion. That involved mobile-only purchases. Thus the company is optimistic about m-commerce shopping this year.
---
For more insights about Thailand's ecommerce space, make sure to stay tuned to our Startup Asia Singapore 2014 event where there'll be Market Expansion Tracks session for Thailand. At the session, Rakuten Tarad's Pom will be one of the speakers answering any questions about the country.