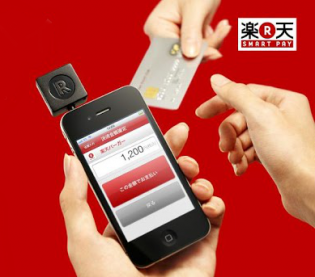 I suppose given that many other companies have already launched smartphone payments solutions in Japan already, it should come as no surprise to see Japan's e-commerce giant Rakuten (JSD:4755) jump in the game as well. Paypal previously announced its Paypal Here card reader for Japan back in May, and local startup Coiney has an offering too.
Rakuten's new 'Smartpay' service includes, like the alternatives mentioned above, a hardware component that is plugged into a smartphone's headphone port. You'll need to have either the iOS or Android apps (see screenshots below) installed on your phone in order to accept payments by credit card, which are swiped through the attached card reader. Customers can also sign their names on the smartphone display to complete the process (see below). Rakuten will take a 4.9 percent transaction fee on each payment.
Both the hardware and software are free for merchants, although there's an initial cost of 29,80 yen. (Update: Rakuten clarifies that 2,980 yen fee is actually for the hardware).
Earlier today we heard news from Rakuten that it would begin selling its Kobo Mini e-reader in Japan on December 18. [Via Techwave]
(See also: 11 options for Japanese online shopping that aren't Rakuten or Yahoo)