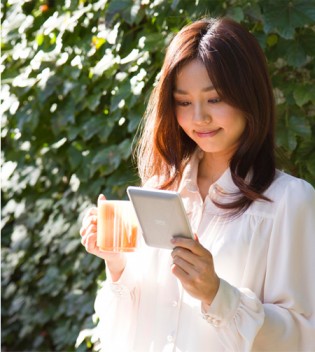 Rakuten's (JSD:4755) subsidiary Kobo has announced that its Kobo Mini e-reader is now available for pre-order, with shipments starting on December 18. This one is a 5-inch e-ink device, available in both black and white, and able to hold up to 1,000 e-books. It will be priced at 6,980 yen, or about $85.
The timing of this release means that consumers have lots of tablet/e-reader options to choose from this holiday season in Japan. Amazon recently announced that its lineup of Kindles are hitting Japan, with the Kindle Fire models coming a day after the Kobo Mini ships, on December 19. Amazon's Kindle Paperwhite went on sale in November.
And of course if we're talking about 'Mini' form factors, we should also note that Apple's iPad Mini went on sale in Japan last month as well, and the cellular model became available a few days ago.
Rakuten's Kobo Touch was launched in Japan earlier this summer, apparently selling well in the early stages, although there was a subsequent speed-bump with a controversy surrounding user reviews. Kobo also offers the Kobo Glo e-reader in Japan as well.