At a press conference in Tokyo this afternoon, Japanese e-commerce giant Rakuten (JSD:4755) announced that its e-reading service will launch in Japan on July 19 for the price of 7,980 yen (or about $100 dollars), with a 'fully localized' experience. On that day, you will be able to access kobo.rakuten.co.jp, which will feature local content and authors, available for purchase in local currency. Readers may recall that Rakuten acquired Kobo for $315 million late last year.
The Kobo Touch will use the ePub 3.0 format, and Rakuten's CEO Hiroshi Mikitani more than once emphasized the words 'open standard' during his presentation today, at one point noting:
This is not about 'Galapagos,' I think we need to work to get Japanese content overseas, with an open global content standard. We struggled with choosing a format but ePub 3 was the answer.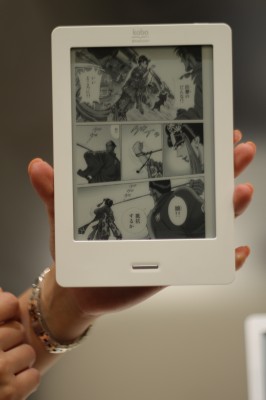 Mikitani spoke in very grandiose terms today; with his words describing something he sees as more than a product launch, but something with societal implications for Japan and the world. He emphasized that in neighboring Korea content is being exported and as a result new industries are growing. He notes that in Japan, there are many problems with Japan's content not reaching people outside Japan, and said that this was an important issue because Japan "has a lot of content to be proud of". He also continually mentioned that reading was in decline in Japan, referring to it as a sort of crisis at one point, noting that younger generations are preoccupied with mobile phones and games.
Kobo has 9 million users in 190 countries, and currently 2.4 million titles available. Mikitani noted that they are targeting 1.5 million Japanese books, and thinks that this is achievable. During the Q&A session, he was asks about which publishers his company has partnered with, and while avoiding specifics, his reply sounds like they are making good progress:
We are not disclosing that information yet, but almost all publishing companies are cooperating. Timing may differ […] but almost all publishing companies are talking with us, and most of them have signed contracts.
He also pointed out that Rakuten's strategy is to incorporate a win-win model with publishers, rather than an adversarial one. This will certainly be tricky as Japanese publishers are notoriously protective of their content. But hopefully Rakuten can make progress and deliver content at a cost which is reasonable to the consumer.
The company also will have touch-and-try booths set up in book stores and other retailers in Japan, so that customers can test out the Kobo before they purchase it. Mikitani also said that users will be able to use their Rakuten IDs to buy books from the Kobo ebook store. They can also gain Rakuten super points by buying, and use these to buy books too. Users can read books across multiple devices, and they will support iOS and Android in near future. He added that regarding tablets, he's like to say more but noted with a smile "Please give us a little more time."