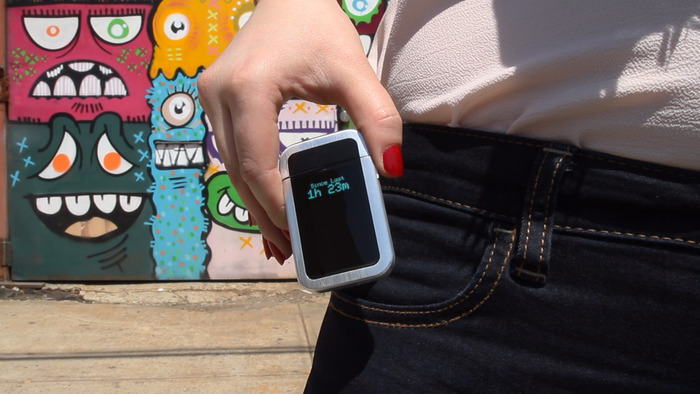 E-cigarettes are catching on fast, but the jury is still out on whether or not they actually help people quit smoking. Besides e-cigarettes, smokers worldwide have resorted to patches, gum, and other nicotine supplments to help cut down.
But until now, no one has really had a solid crack at another indispensable part of every smoker's habit – lighters.
This is where US-based startup QuitBit comes in. The team recently graduated from China's Haxlr8r program in Shenzhen, and its made out with US$175,000 in accumulated angel funding so far. Now QuitBit is nearing the end of its Kickstarter campaign to help pay for manufacturing costs.
QuitBit is a smart lighter that tracks how often you've been smoking with an LCD display. It measures how many cigarettes you've smoked, how long it's been since you last lit up, and can even be set to limit how often you're allowed to use it. All this information is synced with the QuitBit mobile app via Bluetooth Low Energy.
"We came up with idea for QuitBit specifically for ourselves," says Ghofrani. "I wasn't sure how much I was smoking a day."
As opposed to e-cigarettes, which Ghofrani says many people use to supplement smoking rather than help quit, QuitBit quantifies the user's habit. "It kept me aware of how much I was smoking a day and I could set targets," says Ghofrani. "I quit six months ago and haven't smoked another one since."
Rather than an open flame, QuitBit uses a heating element similar to what you find in a car lighter.
If you're using an e-cigarette on the side or you want to share your lighter with friends, all the data can be amended inside the app, or you can set it not to record when someone else is using it.
Strong sales in Singapore
Despite seeing success when raising angel funds, Ghofrani says he wants to "build a community around the product and prove out demand using Kickstarter." The project already reached its US$50,000 goal, and a lot of that demand didn't come from where he expected.
"A ton of presales are coming from Singapore," Ghofrani says. "It was a complete shock to us. We thought the majority of our sales would be from America."
He says 55 percent of pre-orders have come from international customers. Among them, Singapore leading the way with 7.1 percent followed by Japan, South Korea, and a few European countries (note these figures are from backers who self-report their countries). Ghofrani says even though smoking is prevalent in China where he spent four months in Haxlr8r, Chinese smokers don't really want to quit.
See: This USB cable on Kickstarter charges your phone in half the time
Does it work?
Before joining Haxlr8r, Ghofrani got the help of a behavioral health center where five employees took part in a short one-month beta test with a QuitBit prototype. While Ghofrani doesn't point to this as concrete scientific proof of QuitBit's effectiveness, every one of the device's users had cut down their smoking by an average of 30 percent.
This, in addition to his own experience, gives Ghofrani confidence that QuitBit will succeed. He expects QuitBit to start shipping sometime in December.