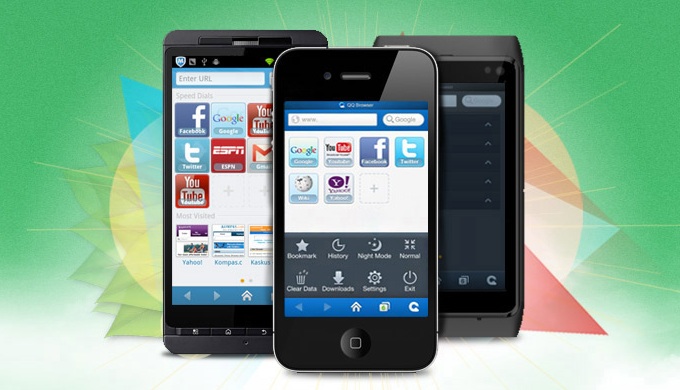 China's biggest web company, Tencent (HKG:0700), has been pushing its cross-platform browser for mobiles, QQ Browser, around the world for quite some time. And now we have some updated stats from Tencent about the app's progress so far. QQ Browser, across its five versions (for Android, iOS, Blackberry, Symbian, and Java), has 16 million users around the world – outside of China – right now. 90 percent of those are based in Asia.
Aside from those in China, Tencent tells us that the top 10 nations for QQ Browser usage are, starting with the largest: India, Indonesia, Nigeria, Pakistan, Bangladesh, Iran, Brazil, Thailand, Saudi Arabia, and the US.
Eyes on Indonesia
With most of those QQ Browser users being in this region, Tencent is also focusing its marketing in Asia, touting features such as strong Evernote integration, a wide choice of preset search engines, and features like 'night mode'. China's biggest social and gaming company has, however, singled out one Southeast Asian nation. A Tencent representative explains:
Indonesia is one of the most important for marketing QQ Browser. QQ Browser already gained over two million Indonesian users since it launched in Indonesia last year.
Tencent is eyeing Indonesia's very young and mobile-loving populace with a couple of other products too: its WeChat messaging app, and the flirtatious Qute.
Tencent says that "Android will be the key platform, but others will also be important" for QQ Browser going forward. That's a testament to the power of Google's mobile OS to pull in both high-end smartphone users and new feature phone converts – or Blackberry escapees.
To push QQ Browser in the region, the company is not just relying on the main app stores, but is also partnering up with the likes of Getjar and Mobango.
Tencent is also hoping for a global success with its WeChat app, which has a fast-growing ratio of international users.
But there are plenty of other browsers to choose from in this crowded market, such as the China-made UC Browser, which has more global users – an impressive 40+ million – thus far.
To give it a try, pick your OS of choice on the QQ Browser homepage.
Disclosure: Tencent is an occasional advertiser on the site. Read more on our ethics page.