Whether you're an entrepreneur or a business owner, business decisions made today tend to be better informed than in the past. Before decisions were sometimes instinctively made, but today, we are educated and taught to make decisions based on evidence. Hence, data analysis tools and business discovery software have become critically important. In addition, with the advent of new technology, we have the ability to create our own business applications, invent tools to manage our data, and also make educated business decisions based on the data collected.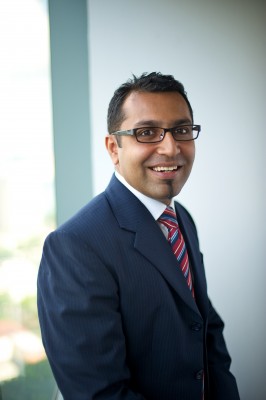 In other words, we're increasingly using business intelligence (BI) tools and services to our advantage. QlikTech is a BI software company, and QlikView is their BI solution for enterprises and individuals. According to Terry Smagh (pictured right), Qliktech's APAC head, even monks in a Tibetan monastery are using their services to analyze their visitor arrivals, and fishermen in Peru are using QlikView to find out which areas would reap the best harvests.
Terry also identified a couple of key BI trends:
Online Collaboration
I adore the idea of online collaboration, and BI tools better facilitate and reinforce online collaborative work. As we become more mobile, real-time online collaboration allows you to accomplish more despite being in different physical locations. There is less time wasted, higher productivity, and business users are able to make tactical decisions. With BI tools in place, you can immediately understand the state of businesses with data presented and collaboratively make informed decisions.
Consumerization
There are now tons of applications created for specific needs, instead of the old conventional way of heading down to the store to purchase a software. Sometimes, all you need to do is to look to your preferred app store and get the application. How do you choose which application to download? This is when BI tools come into play to better facilitate consumerization and help business users better make their purchasing decisions.
Social Business Discovery
With consumerization and data discovery tools in place, it brings together and integrates all the data to aid in decision making. Such BI tools also lead to social business discovery. We are now within the era where it is a bottom-up approach, where you have to adopt BI tools to analyze the social sentiments surrounding your business, and make suitable approaches to solving various issues within your business.
While speaking with Terry at his office, he gets all ecstatic when talking about the future of BI. He strongly feels that every business is able to benefit from BI, and this is especially so within the Asia Pacific region, where markets are both highly diverse and highly integrated.
It is interesting to note how BI will help enterprises at many levels, but apart from catering to enterprises, QlikView apparently allows you to analyze your friends on Facebook (it also claims to find a date that matches your interests best), analyze the sentiment of tweets, and even has a recipe box to help you organise your fridge.
In fact, it has recently launched a new QlikView app, targeted to allow you to make predictions on the upcoming Global Games, which will be held in London. It is developed using the QlikView Business Discovery Platform, which enables you to delve deep into information from past competitions and find out more about past statistics and make smart predictions.
If you guys are interested to find out more about QlikView and how they can help your business, you can have a go at QlikView's personal edition here.