Not content to just jump into the search business, Qihoo 360 is moving into another realm of web business: travel. The company has just launched a new travel platform site at go.360.cn called 360 Travel that ostensibly collects information about travel destinations, helps users find trips and hotels, and more. Qihoo isn't selling any trips of its own yet, but the company hopes the service will be useful to Qihoo fans looking to get away.
In actuality though, it seems not all the pieces are there. Although the site is pretty well designed, Qihoo has zero content of its own, so everything listed on the site is a link to another travel service like Mafengwo or Tuniu. But at present, it's not even really an aggregator. I looked at several destinations domestically and internationally, and virtually all of the travel blogs were from Mafengwo, and nearly all of the available listed trips were from Tuniu. I did come across a few exceptions — some trips from Ctrip, a few travel blogs from other sites — but they were few and far between. Moreover, I came across a bunch of broken links; in the screenshot below (for example) nearly all of the images indicating featured destinations in the US led to error pages on Mafengwo.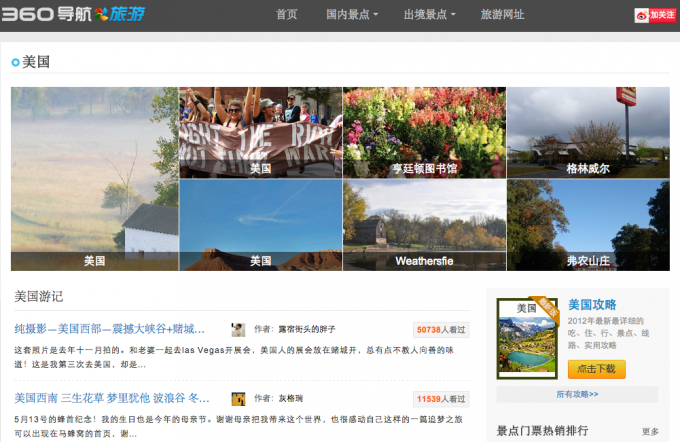 I am sure Qihoo plans to expand its service, but at present, I'm not clear on why this platform would be preferable to just going to Mafengwo or Tuniu or any other travel site directly. Aggregator sites are useful if they aggregate everything, but since Qihoo seems to be pulling most of its content from just a few sites at the moment, it seems more like an attempt to get some traffic out of someone else's content than anything else. Perhaps once it has had more time to grow and aggregate other sites more fully (not to mention fix all those broken links) the site will offer more useful information. For now, though, I see no reason for Chinese travel lovers to be all that interested in 360 Travel.
[h/t to Sina Tech]