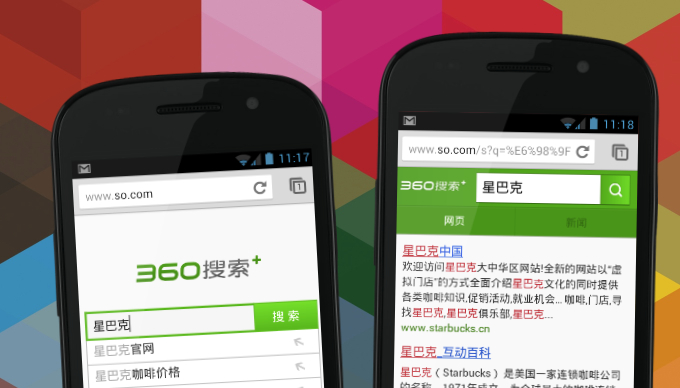 Qihoo (NYSE:QIHU) disrupted China's search engine market in August of this year with the launch of its own contender. And now Qihoo's 360 Search has finally rolled out a mobile-optimized site at m.so.com. The mobile pages are very basic, and are a reminder that Qihoo is 'disrupting' not by innovation but by the weight of its portal's traffic.
The 360 Search mobile landing page has no options to search for maps, images, or anything (pictured above); it's only after searching for something that you then get one option for a news search. But that's it.
In Qihoo's new battle against Google and Baidu, the company still has quite a few offerings to add. It's likely that 360 Search will venture into these other areas – like maps, images, and music – which will be yet more bad news for Baidu. 360 Search has rocketed to second place in this sector in China, with 9.64 percent market share chipping away from the dominant Baidu.
The quality of Qihoo's search is being held back by all these omissions, and the mobile pages make this issue all the more painfully obvious. If you're standing on the street and search for Starbucks – as I did for these screenshots – Qihoo's search results are utterly useless, giving you the Starbucks corporate website and lots of other newsy and wiki-like links. For useful info, like maps, directions, or the phone number of the nearest Starbucks branch, you'd have to head to Google or Baidu on your phone.