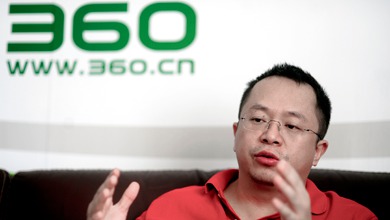 Yes, it's Zhou Hongyi again. But there isn't any war of words this time round. Earlier today at the China Internet Conference, the Qihoo (NYSE:QIHU) CEO was talking about the future – and a possible collaboration – of its 360 Search engine. As Sina Tech reported, 360 Search will launch an open platform and they will also pick up Google's advertising system on its search engine.
Zhou mentioned that 360 Search has plenty to learn from Google, especially in the aspect of advertising on a search engine platform. He also shared that 360 will adopt the categorization of paid and unpaid search results, which is mainly adopted by Google. At the same time, 360 will launch an open platform to allow more quality vertical searches on its search engine.
Zhou commented (translations are mine):
Search engines should be an open platform, where distributions are spread across to many other sites. […] Search engines should not just contain data and fail to put it to better use.
Zhou also reflected that there are plenty of high quality vertical searches out in the market that no one gives a damn about. He is open to the idea of working with smaller web companies, so as to give its users a more professional set of search results. Earlier this week, 360 Search focused on its users' experience with the launch of the "like Project" allowing social search recommendations – like with Google and G+ – in its own 360 Browser for Windows.
Oh well, it's tough to exactly figure out what's on Zhou Hongyi's mind. We never seem to be able to predict his next move. However, be it a gimmick or a strategy, Zhou is clearly trying to make more friends now rather than creating yet more enemies. The Qihoo CEO also hinted at possible collaborations with Google, Microsoft and local rival Sogou; the plans will be revealed in the near future, he added.