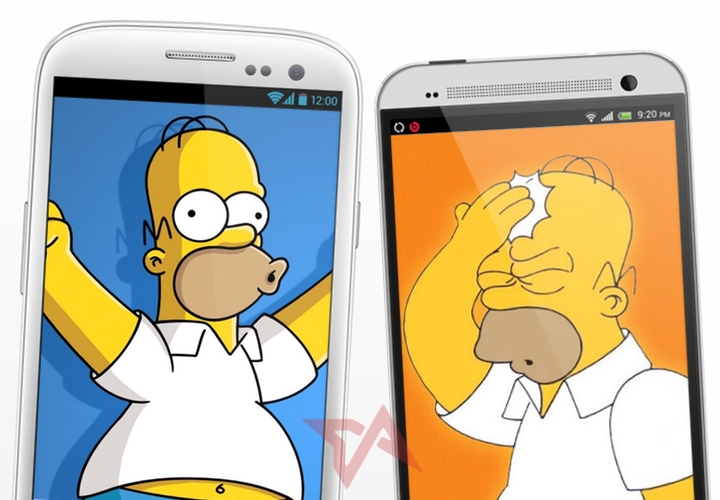 In a very telling clash of contrasting fortunes, both Samsung (005930:KS) and HTC (TPE:2498) revealed their latest quarterly financial results today. There are dramatic differences.
Samsung had another record quarter, smashing previous highs to pull in about KRW 10.1 trillion ($9.4 billion) in revenue for what the Korean company calls its third quarter. Bloomberg notes, however, that HTC suffered its first ever quarterly loss of NT$2.97 billion ($101 million). The Taiwanese firm's revenues hit $1.6 billion in the last quarter. HTC is also facing plunging market share.
HTC = Help This Company
It's too early to tell if HTC's marketing blitz using Iron Man actor Robert Downey Jr. – in which Downney, for some inscrutable reason, is trying to figure out what 'HTC' stands for – can help the company.
This graph by The Guardian's Charles Arthur shows HTC's pain as its revenues – despite the good-looking and critically acclaimed HTC One – struggle to stay above 2009 levels:
HTC revenues have now been falling year-on-year for 23 months in a row pic.twitter.com/syaxIlsLsf

— Charles Arthur (@charlesarthur) October 4, 2013
HTC's revenues have been declining for eight straight quarters.
Samsung unlocks China and India
Samsung's strategy is different from HTC's, moving at a fast pace with a very wide – indeed, bafflingly de trop – product range. That means it has plenty of cheaper and mid-range models that can sell well in markets like India and China – and all across Southeast Asia. HTC tends to move slower and cover fewer bases than its Korean model; it currently has about half of Samsung's approximate 40 smartphone models.
Samsung is the market leader in China, where it's pricier and larger phones – like the galaxy S4 and Note series – are also popular. The Suwon-based firm sold 12.5 million smartphones in China in the first quarter of this year and looks set for a bumper year in that nation.
(Editing by Paul Bischoff, Josh Horwitz)