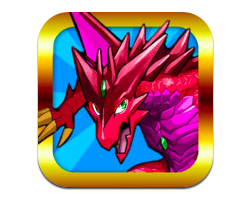 Yesterday I highlighted Gung Ho Entertainment's (JASDAQ:3765) Princess Punt Sweets, a mobile game for iOS that has been doing well in the Japanese market. Gung Ho is of course most famous for its Puzzles & Dragons title, which has ruled the top grossing charts in Japan for about a year now.
But Puzzles & Dragons is apparently making some progress in South Korea as well, as Social Game Info points out that it is now the number three ranked app in the South Korea app store for iOS. As for Korea's top grossing charts, P&D is currently 16th on iOS, and 24th on Android.
The English version of the game for iOS, which is targeting US markets, hasn't seen the same success without any real traction to date since its launch back in November.
It's pretty remarkable that P&D has reached the success that it has in Japan, and even in Korea, without leveraging either of the main game platforms like GREE or Mobage.
Puzzles & Dragons announced just a few weeks ago that it had reached the six million downloads milestone before December 31st. As Serkan Toto points out, that's an impressive figure considering that there are only about 40 million smartphones in Japan.