Dr. Serkan Toto is a gaming expert and independent consultant based in Tokyo. You can follow him on Twitter and his blog. This article is republished with his permission.
---
Japan's biggest smartphone game Puzzle and Dragons now boasts over 20 million registered users in the country, maker GungHo (3765.OS) announced today.
While this is a pretty impressive milestone, the game's growth slowing down dramatically. At its peak, it took Puzzle and Dragons just 12 days to go from seven to eight million users towards the start of this year; but it required 30 days to get from 19 to 20 million downloads on October 14.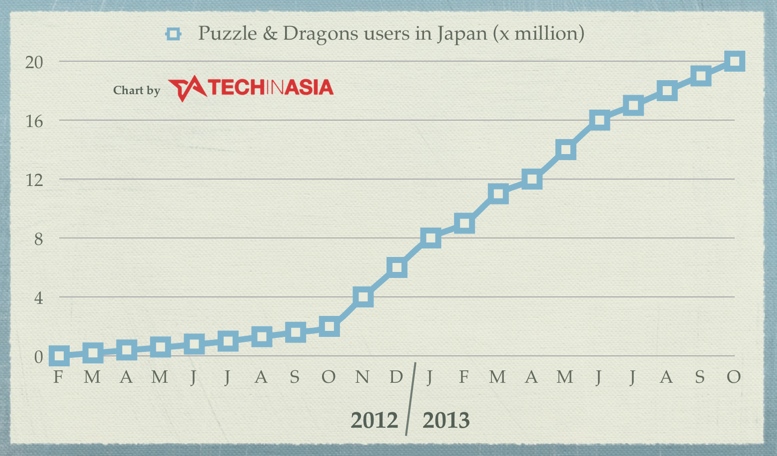 In fact, growth started slowing down back in April. In Japan, the game is available on iOS, Android, and Kindle.
What comes next?
While Puzzle and Dragons could get to 25 Japanese users and beyond in the next few months (especially since the holiday season is still to come this year), GungHo in Japan has already launched another puzzle RPG called Divine Gate as a follow-up to Puzzle and Dragons.
After a long, long wait, GungHo launched Puzzle and Dragons in the UK App Store yesterday.
Puzzle and Dragons Z, a special version for the 3DS (which looked great when I played an early version during the Tokyo Game Show last month), is set to hit Japan on December 12.
Earlier this week, GungHo's parent company SoftBank announced it bought a majority stake in Finland's Supercell for $1.5 billion.
(Editing by Steven Millward)