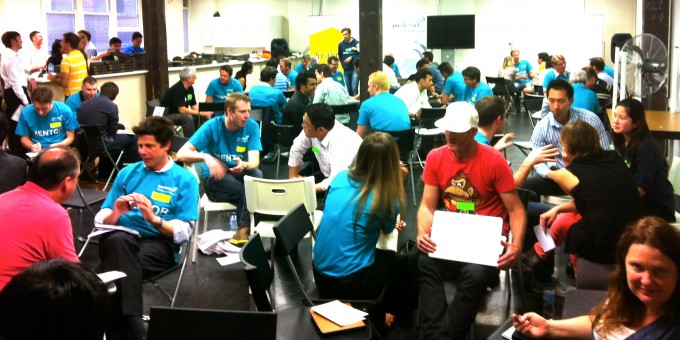 'Pushstart Mentor Live' is a speed networking event that connects startups with tech industry mentors. Each startup team was able to meet with three mentors for 15 minutes each. The event was held on Wednesday night at the Fishburners co-working space in Sydney, Australia.
The value for startups is being able to meet people that have done it before and can provide an experienced perspective. For the mentors, it is a way for them to give back to the industry and to meet up-and-coming startups.
The room was abuzz with noise as startups pitched to the mentors their visions, their problems, and where they needed help. There were 80 people representing 60 startups in attendance on the night. 25 mentors were available, and 150 mentor sessions were held.
Kim Heras, the co-founder of Pushstart told us:
This is our fourth event – three in Sydney and one in Melbourne. Between all of them we've done over 500 mentoring sessions. Add to that the mentoring sessions through Mentor Connect and in total PushStart has helped facilitate over 1,200 mentoring sessions between mentors and startup founders since launch 18 months ago.
From my own personal perspective, it is a rare opportunity to be able to sit down with three experts in their respective fields on one night. I attended the event personally and each mentor was able to provide valuable advice to my own startup, Native Tongue.
Luke Carruthers, founder of mobile startup, Closebuys, and previously a director of Game Developers Association
Rick Baker, investment director for Blackbird Ventures
Patrick Crooks, mobile payments industry expert
Many other startup communities could learn from the Mentor Live events to connect their ecosystems. 
Here are my five tips to get the most out of PushStart Mentor Live events:
Do research beforehand on the mentors.
Select the mentors who would be a good fit based on their past experiences.
Choose different types of mentors to get various perspectives.
Prepare your questions prior to the event.
After the event, followup with a short email and add them on LinkedIn.