A new post over on the Youtube Trends blog points out that over the weekend PSY's 'Gangnam Style' video became the new most-viewed video of all time. Currently the catchy Korean video has over 820 million views in total.
So who did PSY take down from the top spot? None other than my countryman Justin Bieber, and to be honest, I'm ok with that [1]. Bieber's song 'Baby' now falls to second place on YouTube's all-time charts with 805 million views.
Perhaps what's most amazing about PSY's accomplishment is that rate at which it was accomplished. As you can see in the chart provided by Youtube below, Bieber's rise up the charts was more gradual, spread out over a couple of years.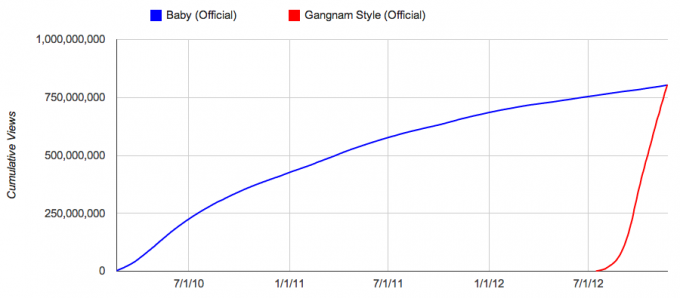 But PSY's hit has literally been rocket-like in trajectory, and after it first gained traction in South Korea it later spiked thanks to popularity in the US and around the world.
It will be interesting to see if this pace is sustained, and how long it will take for 'Gangnam Style' to reach one billion views. PSY's channel overall has already broken the one billion views mark, although it still trails behind Bieber's channel which has over 3 billion.
YouTube and the folks at Google (NASDAQ:GOOG) are clearly delighted that PSY has ridden their platform to fame. Google's executive chairman Eric Schmidt even asked PSY to teach him the famous 'horse dance' from the video during a visit to Google Korea.
---
And I would also like to say, on behalf of Canada, that we're sorry that we let his music escape to the rest of the world.  ↩