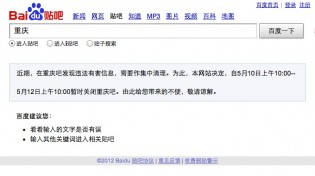 We spend a lot of time talking about Sina Weibo these days, but Baidu has its own social platform in the BBS-like Baidu Tieba, a massive collection of mini-forums dedicated to everything from niche TV shows to entire cities and provinces. Not all the provinces, though. Yesterday, two major provinces — Chongqing and Liaoning — disappeared from Baidu's Tieba. Apparently, just as Melissa Chan has become an unperson online in China, Chongqing and Liaoning have become unplaces.
Collectively, these two provinces boast a population of more than 70 million, and the forums that have now disappeared contained tens, probably hundreds of millions of posts. Now, all they contain is this message:
Recently, in the [Chongqing/Liaoning] boards, illegal information has been discovered that requires concentrated cleansing. For that reason, this website has decided to temporarily close the board from 10:00 A.M. May 10 to 10:00 A.M. May 12. We apologize for the inconvenience.
It's not exactly rocket science why these two provinces in particular were chosen — they are the most recent stomping grounds of Bo Xilai, who was once an up-and-coming Chinese politician gunning for one of the nation's top positions and is now a disgraced murder suspect. The closing of these two Tieba forums is probably related to the increasingly sensationalistic rumors surrounding Bo's alleged misdeeds while in office. In fact, at this point, continued discussion of any part of Bo's story has become embarrassing enough for the government that it's easy to imagine them ordering it expunged from the internet.
Still, the closing of two massive forums is pretty over-the-top, even if it's just temporary. It's not clear where exactly the censorship is coming from — we contacted Baidu but the company declined to comment — but given the specifics here, my guess is that this is something Baidu was ordered to do and not something it undertook voluntarily. Like any social service in China, Baidu's Tieba is patrolled by censors from Baidu, but the closing of two entire massive forums is unprecedented and indicates this isn't just a case of day-to-day internal management.
Obviously, we're no strangers to stories about internet censorship in China here at Tech in Asia, but this one strikes me as particularly ridiculous. Is it really necessary to silence two entire provinces just to delete a few bits of "illegal information"?
(Note: if you're wondering what kind of rumors Baidu users might have been spreading about Bo Xilai, you can start with this juicy one about his cross-dressing wife suddenly bursting into a government meeting in a military uniform).