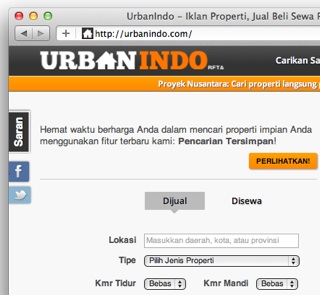 Indonesian online real estate marketplace UrbanIndo has concluded a series A financing round led by Japan-based GREE Ventures. IMJ Fenox, a new fund focusing on Southeast Asia markets has also participated. The sum of the financing round wasn't disclosed. Prior to this financing round, UrbanIndo has also previously raised a round from East Ventures (1) and other undisclosed angel investors.
Arip Tirta, Co-founder and CEO of UrbanIndo said in today's announcement:
UrbanIndo has experienced rapid growth. The online real estate marketplace in Indonesia is shifting as users rely more and more on market data and tools to make the right decision in buying, renting, or selling properties.
This fresh funding will be used to hire more talent to join the team which currently has 11 people. Founded in November 2011, UrbanIndo claims to be "the most innovative real estate search in Indonesia." It simplifies the search process by allowing its users to query directly on a map, complete with features like neighborhood reports, similar properties, and price distribution analysis of a neighborhood within a specific listing. Other competitors in Indonesia include Rumah123 and PropertyGuru's Rumah.com.
When questioned, Arip told us that UrbanIndo currently has over 17,000 registered users with the majority of them being real estate professionals. The site has sold or rented close to 9,000 properties. There are also 75,000 active property listings. He also revealed that visits and pageviews have increased by 20 percent per month but did not share absolute figures. Moving forward, UrbanIndo plans to monetize based on the lead generation platform for professionals property agents.
The last time we saw GREE Ventures take a big interest in an Indonesian startup, it was Berrybenka, the women's fashion e-commerce store, that got series A funding of its own.
(1) Disclosure: East Ventures is also an investor in TechinAsia. See our ethics page for more information.