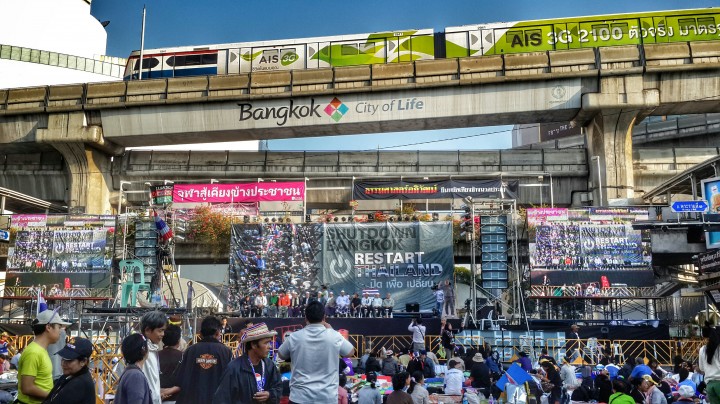 Today is the third day of Bangkok Shutdown, a political movement in which protesters take over seven main spots in the capital of Thailand requesting the interim government to cancel the upcoming election and reform the country. According to Lt. Gen. Paradon Pattanathabut, Thailand's security chief, there were at least 170,000 people on the streets, however, judging from the pictures, it seems to be even more than that.
We've reported before that Thailand's National Broadcasting and Telecommunications Commission (NBTC) has promised regular cell phone service should continue working properly in the protest areas. It seems the regulator has kept its promise.
According to local Thai newspaper Thairath, the NBTC sent out vans to check on the phone signals. Turns out, the successful rate for making phone calls from all the five operators (TOT, CAT, AIS, Dtac, True Move H) was at 90 percent, which is even higher than the expected standard. Over all, True Move H has the highest rate of success,  while over one-third of TOT calls failed during the inspection.
The NBTC says all the operators obeyed its orders and installed temporary cellular sites at main protesting areas. In addition, some also provide mobile units to increase the spectrum bandwidth in high density spots.
Thai telco AIS claims the most dense areas are the three main stages – Ratchaprasong, Patumwan, and Asoke. Mobile usage increased by three times in those areas, especially during the daytime in which people use data to chat and upload photos to social networks. The telco will double the capacity to support the mobile service in these three areas, however, the company asks the public to understand that data services might not be at 100 percent, but it will do its best to make sure normal cell phone service works properly.
(Editing by Paul Bischoff)