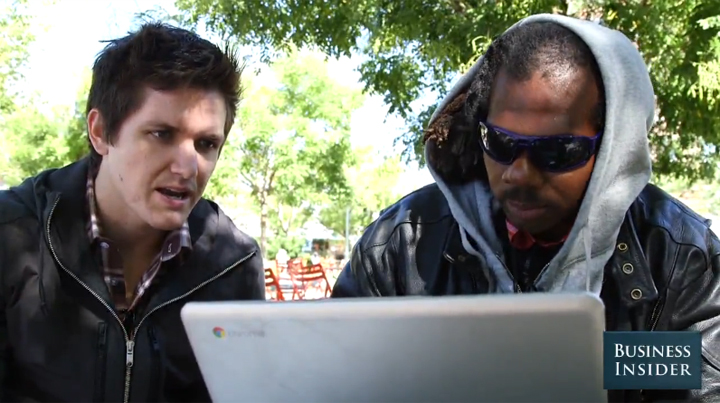 Patrick McConlogue, a Manhattan-based programmer, has embarked on an intriguing endeavor — that of teaching a homeless man how to code.
While he has gotten a lot of brickbats for the idea, that has not deterred the 23-year-old from approaching Leo, a homeless man he sees while going to work each day, with a proposal: He would teach him Javascript for an hour every weekday for eight weeks.
They were halfway through the challenge when Business Insider approached them for a video interview. The video shows the tools Patrick used for his lessons: A cheap Samsung Chromebook, and Nitrous.IO, a web interactive development environment created by a Singapore and San Francisco based startup that allows programmers to code from any machine without setting it up manually.
Leo is aiming to build a mobile app to spread awareness about climate change. Once Patrick leaves for work, Leo spends about three to four hours each day to practice.
Nitrous was founded last year by Arun Thampi, Peter Kim, and AJ Solimine. It has received $1 million in seed funding from Silicon Valley and Singapore investors this past April.
Arun and AJ were formerly from Anideo, a Singapore-based mobile development company that was funded by Facebook co-founder Eduardo Saverin.
Kim was one was the first employees at Viki, a Singapore startup that was subsequently acquired for $200 million for crowdsourcing translations for entertainment videos. Arun met Kim while briefly working at Viki as a contractor.
(via Business Insider)
(Edited by Charlie Custer)