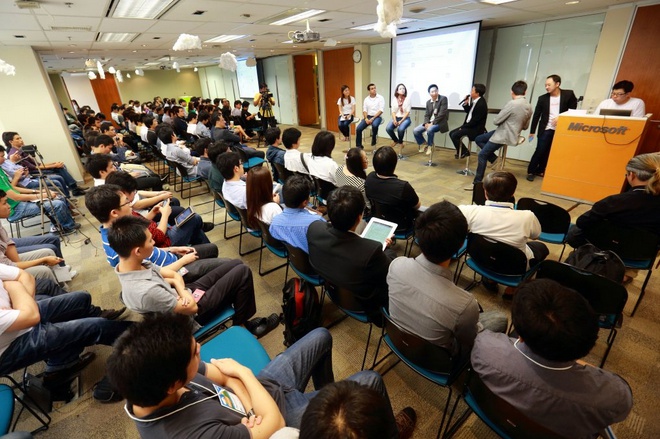 Thai tech blog Thumbsup wrapped up its third ever Start it Up, Power it Up earlier this month. Over 200 participants listened to points of view and advice from guest speakers from all over the continent. After all that, there was a pitching contest that saw one winner and two runners up emerge.
The guest speakers came from Thailand in the form of the Venture Catalyst group and Gravity Innovation; while from Japan, Indonesia, and Singapore came GREE Ventures, Weglo, Silicon Straits, and Nulab.
The event emphasized product development for startups, starting from creative thinking and how to build an innovative startup company, right up to the importance of UX/UI. Also on the agenda was how to do marketing on a regional scale, and using cloud-powered back-ends like Microsoft Azure. There were discussions about the Southeast Asia startup ecosystem, some insights about raising funds, and also contributions on the subject of IT trends by a representative of Dell.
Winners and runners-up
The final session of the day was of course the startup pitching competition:
The members-only travel booking site emerged as the winner at this event. It offers exciting getaways around the world and focuses on tailor-made trips for the experience of a lifetime. The Start it Up, Power it Up judges were also impressed with Privepass' engaging, socially-connected editorial content.
NoonSwoon was one of two runners up. The startup introduces singles to a quality match every day at noon (hence the name), usually to someone with whom they have a mutual Facebook friend. Users have 24 hours to determine whether or not they like the person they're matched with. If both matches like each other, they are able to chat directly through the NoonSwoon app without needing to reveal private contact information. This is one in a wave of Facebook-connected dating services this year, such as Bang With Friends and PairBuddy.
Also known as 'SOS', this is an online magazine and shop specializing in all kinds of trendy things. All the products it features are specially selected by SOS's team of stylists and cater to people with an eye for quality, design, and style. Categories that SOS covers include: men's and women's clothing, gadgets, design, home furnishings, travel, and dining. The site uses regularly updated editorial content to help users decide what are the coolest items to buy.
That's a wrap for this Bangkok-based event 1 – look out for Start it Up, Power it Up #4 in the near future.
Editor's note: Thumbsup is a TechinAsia content partner.↩