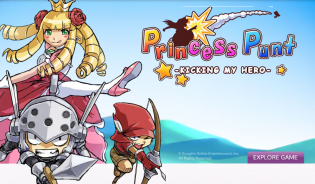 Last week I mentioned a fun new Japanese mobile game called Princess Punt Sweets, from developer Gung Ho Entertainment. Admittedly, it's a pretty weird game as your character, the princess, is tasked with kicking heroes into battle against the enemy.
According to the folks over at gamebiz.jp, the title – which so far has only launched for the Japanese market – has already reached a million downloads as of January 13th. That's just 56 days since it was launched, which is certainly strong performance for just the Japanese market. The game was the top free iOS app in Japan a week ago, although currently it has slid to the 20th position.
But Princess Punt Sweets still ranks high on the top grossing app charts, sitting in sixth. One game that ranks ahead of it is the wildly popular Puzzles and Dragons, which is of course Gung Ho's most successful game to date. That title has practically ruled the top grossing charts in Japan since its initial release back in February of 2012.
The previous Princess Punts game eventually got an English version, so I expect that with any luck this new title will as well. But if you'd like to try the older version, you can get it over on Apple's app store.