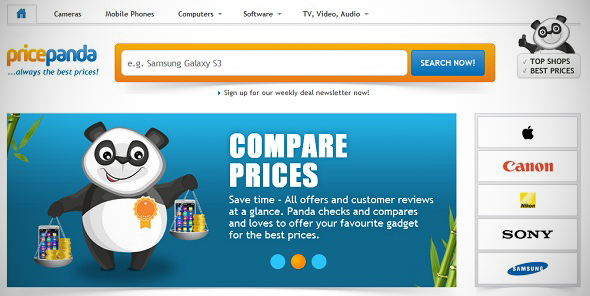 Rocket Internet has launched Pricepanda, their online price comparison service, in Singapore and Malaysia. The new service has been anticipated since May, when word first got out about it.
For now, the site contains only consumer electronics and software like the Samsung Galaxy S3, cameras from Canon and Nikon, and software from Microsoft. Once users click on an item, they will be directed to a price comparison page which leads to the online retailers' sites. 
There are over a thousand variations of items sold in the Singapore and Malaysia sites combined. However, many of these products are stocked by just one retail partner — presenting no opportunity for price comparison. Time will tell if that will change.
Price comparison sites are nothing new. In fact, these services have been around in the United States since the first Dot Com boom, and many of them have been acquired for high valuations. However, the concept appears to be just starting to take off in Asia.
The launch of Pricepanda comes at a time of mixed results for Rocket Internet's entry into Asia-Pacific.
The status of Square clone PayLeven's expansion into Asia is still up in the air. We previously reported that Rocket Internet had registered a PayLeven company in Singapore, and set up Facebook Pages for the service in Singapore, Hong Kong, and Malaysia. These Facebook Pages no longer exist.
Meanwhile, fashion retail site Zalora seems to be struggling to keep up with demand and has fired staff in the Philippines. Furniture site Home24 has shut down operations in Singapore while Glossybox Australia has ceased operations.
One bright spot for the German company is Lazada, an Amazon clone which received an investment of possibly between USD50M and USD100M from investment bank JP Morgan.
Opinions have so far been divided on Rocket Internet's impact on tech entrepreneurship in Asia. While vilified for building businesses that lack innovation and real value, it has nonetheless received praised for disrupting the retail industry and benefiting consumers.
We are seeking Rocket Internet for comments.