PriceArea, an Indonesian price comparison website, has an enviable growth trajectory.
In March 2011, it saw a respectable 200,000 unique visits a month. By July this year, it was getting 45,000 to 50,000 unique visitors a day, making it the top price comparison site in the country. The number of listed items has multiplied too, swelling from 1.2 million then to about 5 million now.
The tables have certainly turned for CEO Andry Suhaili. While PriceArea is blazing the trail in the price comparison arena in Indonesia, his first ecommerce startup, Checklagi.com, went nowhere.
Started in 2008, Andry describes Checklagi as being similar to Japan's Rakuten — an online retail marketplace that serves as a platform for retailers and suppliers to reach consumers. But the market gave it a cold shoulder.
"At that time, retailers prefer the conventional approach. They haven't look at the Internet as an alternative way to generate sales," he says during an interview at the East Ventures office in Jakarta. Checklagi eventually burnt through its capital and closed down.
After taking stock, Andry moved on. PriceArea was actually an idea he had for improving Checklagi. It turned out that the idea would dramatically improve his entrepreneurial track record.
This year, PriceArea successfully raised a Series B round from Japanese investors  GREE Ventures and So-Net, bringing the company's valuation to "a couple of million," Andry told DailySocial. That round followed a Series A investment from early-stage VC fund East Ventures.
The startup's current upward swing is as much a result of Andry and his team's adroitness as it is a matter of timing.
Within the short span of a few years, interest in online shopping among Indonesians has picked up. According to Andi Boediman, director of startup incubator Ideosource, around 6%, or 3 million out of 50 million Internet users in Indonesia now shop online, up from 3% in 2009. If these figures are true, it would seem that a large chunk, perhaps even a majority of online shoppers there would have used PriceArea.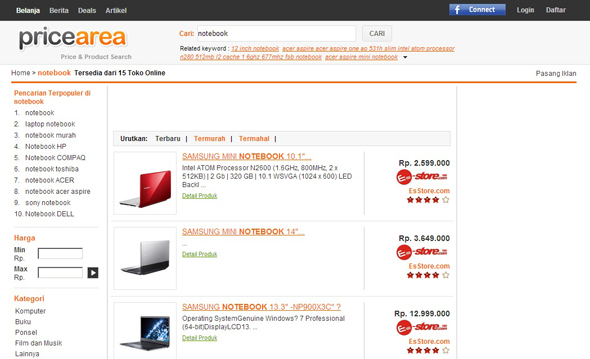 Indonesians are beginning to trust e-commerce slightly more. As a result, online retailers like BliBli and Tokopedia have finally found a viable market. PriceArea benefits with more potential revenue, since it plans to earn from affiliate sales in addition to its current advertising income.
Couple this increased trust with the fact that Indonesians are price sensitive when it comes to gadgets (Android trumps iPhone for instance), PriceArea is positioned to be a place where consumers can compare prices and get electronic goods at the best value.
Consider also the recent interest by Japanese investors in Indonesia and the region, which has given startups like PriceArea a leg up. Faced with stagnation in their home markets, Japanese tech firms have realized that they need to expand outwards to find new avenues of growth.
The result has been a bonanza of funding for startups in Southeast Asia. Singapore's Bubble Motion is a recent example. Besides GREE Ventures, another firm with interest in Southeast Asia is CyberAgent Ventures, which has set up a new fund to invest in Indonesia and Vietnam.
With e-commerce growing in Asia, the number of competitors has increased. Indonesians can now also choose from Telunjuk and Rocket Internet's Pricepanda, which also just launched in Singapore and Malaysia. Further afield, China has services like eTao and B5M. India has MySmartPrice.
Taking a different approach is Singapore's Save22, which aims to be the ShopSavvy of Asia. It lets users scan barcodes in physical retail stores with an app and upload the prices to the cloud.
This build-up in competition would mean that PriceArea cannot sit still despite a 2-year headstart. Aware of this, Andry tells SGE that the company is currently focused on expanding in the near-term to regional markets like Singapore, Malaysia, and the Philippines. In its sights are Vietnam and Thailand as well.
Besides localizing for foreign markets, PriceArea is also working hard to differentiate itself through a native mobile app and some new features.
Granted, how well the startup will do in the future will to an extent be beyond its control. Sure, Indonesia's e-commerce industry has huge growth potential. But it is hampered by the lack of a truly convenient online payment gateway, infrastructural challenges, and low credit card adoption rate.
Overcoming these challenges will take the combined effort of the country's e-commerce players, from startups to the telcos.
PriceArea is positioned to take the lead in this.