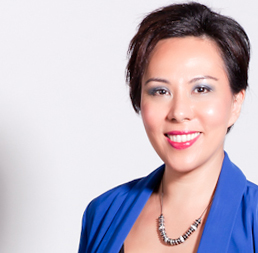 In our previous post featuring female entrepreneurs in Asia, we spoke with Adriana Gascoigne, the CEO and founder of both Girls in Tech and HelpLearn.Asia. Today, we are honoured to have Gina Romero, the managing director at The Athena Network Singapore. She drives various initiatives, and hopes to empower female business owners, executives, and entrepreneurs in Singapore. She is also one of the co-organizers of the recent Singapore Women Startup Weekend Singapore.
In the interview, Gina highlighted the challenges faced while trying to set up the Singapore chapter, and how one should never be shy to ask for help when in need. She says that passion is what drives (female) entrepreneurs forward, and persistence is always the key to success. Gina also reminds us that as much as one is determined to succeed, one should also be able to embrace failure.
What does The Athena Network do, and what is your role?
Gina: The Athena Network is an organization that brings women, entrepreneurs, and executives together to network strategically. At the heart of Athena, we aim to help women learn valuable networking skills so that they can leverage the power of community to build and grow successful businesses.
When I moved to Singapore in 2010, I realised that there was huge potential for The Athena Network here in Asia Pacific. I launched The Athena Network Singapore in February 2012 with my co-founder, Claire Kidd. We had great traction with over 30 events and over 900 attendee registrations.
As the managing director of The Athena Network Singapore, I am on a mission to redefine the way women-led businesses collaborate, and share skills, knowledge, and resources.
How and why did you get started in this industry?
Gina: I was a founding member of The Athena Network when it launched in the United Kingdom in 2005. I benefited so much from being a member while I was running my IT business, that I became a total advocate and an ambassador for the brand and everything it stood for. In 2008, I took the role of operations director at Athena UK and worked alongside Jacqueline Rogers, who is the CEO and founder at the UK chapter. We were both really passionate about creating a unique business networking experience for our [2,500] members based in UK.
Did you face any challenges in particular?
Gina: There are always challenges and I love them! Challenges make everything more fun and interesting.
I guess the biggest challenge I encountered with launching Athena in Singapore was localization. The Athena community is very precious to me and I feel responsible to uphold the integrity of the brand, but I also feel strongly about having a firm grasp of the local market. I was determined to build Athena with local Singaporean women in mind. Hence, I immersed myself in local culture as much as possible to make sure we build a company that delivers what Singaporean women want.
How do you seek out relevant mentors and people for help?
Gina: I have been very fortunate to be surrounded with immensely talented and generous people who have supported me over the last year. I recognize that my tenacity and dogged focus have attracted quite a bit of interest. However, I believe that if you are true to your purpose, people will buy into it, and want to offer their help. If the help I need isn't offered, I ask. The power of just asking for help is truly amazing. No one has said no so far.
I am really grateful to my wonderful, growing team of associates who have offered not only valuable advice, but also immense amounts of time and effort to get Athena off the ground.
Do you think your gender has played a role in helping you gain an advantage over your male counterparts? (like soft skills, personal touch, attention to detail). Has it been a disadvantage in any way?
Gina: This is a tricky question. I have never been a 'girly girl'. When I was little, I preferred Transformers to Barbie dolls. Admittedly, I still prefer superhero movies to chick flicks and World of Warcraft to shoe shopping! I'm not sure if I am a typical woman and I think this makes running a women's organization easier. My key strengths are my vision, [and ability] to rally people. But I guess I must have those interpersonal skills too. I am certainly obsessed with creating a better experience. If anything, that's what keeps me awake at night — fixating on how to create a better experience for our members.
I have never really had an issue with gender. I was a flight stewardess for ten years, and subsequently worked in the 'male' world of IT for seven years. I have also been very active in women's organisations for the [past eight] years. I guess for me it has never been about gender, it's just about people.
In your opinion, what are the necessary skill-sets and attitudes required to succeed in the technology and startup industry?
Gina: You need to be consumed with passion, and have a willingness to fall down and get back up again with mud on your face — over and over again. You need to take criticism on the chin, have a little cry, then just get back out there. More than anything if you are determined to succeed in a startup, you need to be prepared to fail. If you aren't prepared, you might as well not bother.
You need to be ready to know yourself inside and out. Identify your strengths, weaknesses, and boundaries. Most importantly you need to have faith in the people around you who know better and have faith in yourself to know when they do.
Do you have any female role models that you look up to?
Gina: I am very inspired by the James Bond character 'M' (played recently by Dame Judy Dench). She is a formidable woman, with integrity guiding her strength. She is a woman of substance. You can't make that happen, it happens with time.
Do you have any advice for fellow female entrepreneurs?
Gina: A lot of the time, balance is the biggest issue for women entrepreneurs. There's always so much talk about choices, sacrifices, and balance – typical buzzwords for the working woman. Being an entrepreneur is not an easy path to take. But if you play it smart, it is possible to juggle. I have an awesome family, I love my work, I want to do amazing things, on top of being a fantastic mum and wife. I want to have it all.
Sometimes I burn the roast because I'm on the phone with an important client. Sometimes I miss an important meeting because one of my kids is sick. Sometimes I wonder why the hell I am trying to do it all. Then I remember. Because most of the time, I can.
And if you can, then why not?
---
This is part of Tech in Asia's series on female entrepreneurship.
---