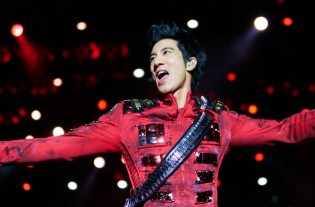 The direct, pay-to-download model of selling entertainment has been increasingly popular in the West since comedian Louis CK used his own website to offer a video of his latest special for $5 and, despite the lower-than-normal price and the lack of DRM, ended up making millions. But the strategy has not gained as much traction in China. Although music piracy remains rampant on the Chinese web, pop star Leehom Wang is breaking the mold and giving the direct download model a shot, offering a copy of his new single "12 Zodiacs" for paid download on his official website.
The site allows payments via Alipay or Paypal, and explains that Wang and his team decided to try the direct download model because of the dismal current state of the music industry. By going directly to fans through his website, Wang and his team will end up with a much bigger chunk of the sales, although it's not clear how much they'll be able to make. The single is priced at [UPDATED: corrected the price] 1 RMB (about $0.15), so Wang isn't likely to make a huge fortune or anything, but $1, and if the move meets with the approval of fans, Wang (like Louis CK) might be able to expand the sales platform on his own site to sell everything from future albums to concert tickets directly to fans.
Wang's site also suggests that he's working with other musicians on an artist-run online sales platform on a separate site that we may get to see sometime later this year:
In the coming year, a few other artists and I will be teaming up to start a new site for musicians and other artists to share their creative works in an economically viable way. But it's still just an experiment, and every download on WangLeehom.com is a vote for a new way of getting music to the fans. It's always been important to me to support musicians and artists, famous or not, independent or not, and I'm hoping that the new site will become a way for me to give back to a community that deserves the kind of support I'm so grateful you guys have given me for so many years.
Personally, I love this approach and I hope that more Chinese musicians and artists adopt it. It cuts out the middlemen and provides consumers with a legitimate (as opposed to pirated) product for (generally) a reduced price while also ensuring the actual artists get a bigger chunk of the money their music earns. It may not be a viable option for new or indie acts that don't already have followings, for for someone like Leehom Wang, the potential benefits are numerous. And if the platform he's talking about takes off, it could completely change the way music is sold (or not sold) in China.