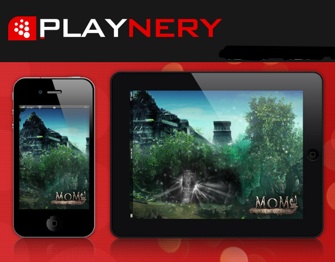 Korean game development studio Playnery has been growing quickly since it opened in October of last year. Already partnered up with Zynga to distribute its forthcoming first title Mother of Myth, now Playnery has secured $3.7 million in funding, led by Japan's Softbank Ventures. Qualcomm and Stonebridge Capital also put some money into the round.
Playnery specializes, notes TheNextWeb, in 3D RPG gaming, whilst also making the titles social and playable in any recent web browser. The startup uses its own, self-developed 3D gaming engine. In this way, it's pushing forward the current social gaming model of simplistic action that began with things like Farmville. The investment arm of Japanese telco Softbank is clearly impressed with this new vision for social and mobile gaming; SoftBank Ventures' Seo Il-shik said today:
In the future we predict that the social and mobile market will break off from the casual gaming seen up until now, and achieve rapid growth with the diversification of genres such as MORPG, MMORPG, and FPS. When various user groups form and the market grows rapidly, we expect that Playnery will become a successful game developer through high quality games and global partnerships.
It's not Softbank Ventures' first foray into social gaming in the region, as it has also backed South Korea's SundayToz, makers of the hit game Anipang.
Playnery's first game, Mother of Myth, is due to launch next year, and is aiming for a global rollout in 12 languages, and will be playable on Zynga's (NASDAQ:ZNGA) gaming platform, on Facebook (NASDAQ:FB), and as iOS and Android apps. Until then, there's this interesting demo video of how the game will play:
(Video link for mobile readers)
[Source: TheNextWeb]