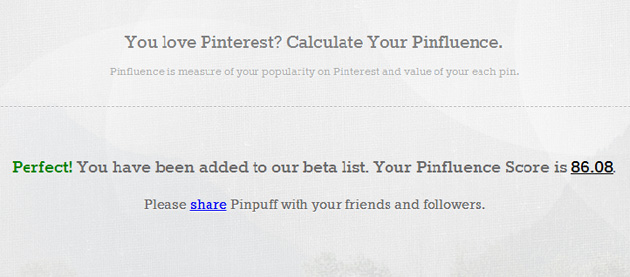 Correction: Ammrita is a she, not he. Cousin changed to brother.
Loving Pinterest? Then you have to check out Pinpuff, a made-in-India web application that measures your Pinterest score. All you have to do is key in your Pinterest username and leave the measuring to Pinpuff. The service is in private beta.
The founder of Pinpuff, Ammrita Sharma, explained to me that he has developed an algorithm that will measure the score (out of a possible 100) based on the user's followers, following, boards, pins, likes, and comments. Plus, Pinpuff can even measure the monetary value of your Pinterest account. Ammrita elaborated:
Depending upon the quality of sharing and followers, the monetary value of each pin is calculated. Monetary value is calculated keeping in mind the ROI that can be extracted if a brand is involved and is paying for pins. This again is developed through lots of underground tests for quite some time.
Ammrita confesses that she is a Pinterest addict, and the computer science undergrad-cum-entrepreneur says that her love for the platform motivated him to create Pinpuff, which she believes can make Pinterest even better for its community of users.
I love Pinterest more than anything on the Internet. And have many ideas around Pinterest to make it even better and useful for both people like me and brands. […] I am in my last semester of Computer Science Engineering so playing around with code is what I like to do. Hence, when two interests came together, it gave birth to Pinpuff.
Pinpuff has several stealth features coming up. Ammrita, however, did reveal that she is planning to open up the Pinpuff API for other developers around the globe to make apps surrounding Pinterest. Pinpuff is currently funded by Ammrita's family members. Her co-founder who works on business and marketing matters is none other than her brother. Ammrita has plans to raise funds from angels — but she'll probably wait until after her schooling ends!