The internet can help change the way industries do business, including the health industry—at least that's what Pilih Dokter (which means "choose doctor") wants to prove. The company is backed by experienced co-founders: Irwan Hartanto, who worked as an engineer at Silicon Valley as well as being an assistant vice president at Bank of America, Mayapada Hospital director Grace Tahir, and Ronald Kumalaputra, who runs the express convenience store Bao Bao Express.
How does Pilih Dokter plan to change the industry? Hartanto explains that it wants to offer solutions to mainly two problems in the medical world: lack of local doctor exposure and lack of medical information in Indonesia. Regarding the first problem, he explains that there are about 150,000 doctors in Indonesia, but only a few hundred get really famous and have available references from patients. What about the other 149,000 doctors?
To solve that problem, Pilih Dokter wants to provide a doctor database. It is user-generated, so the team asks the doctors one by one to sign up to the service. On it, doctors can write medical blogs as well as receive recommendations from users, which could help strengthen their exposure. Currently there are still less than 1,000 doctors signed up.
Regarding the second problem, Hartanto believes that Indonesia still lacks strong medical information availability in Indonesian language. Because of this, there are lots of silly medical rumors—like you can die from eating shrimp and drinking vitamin C at the same time—spread around without a dependable medical source to verify whether the rumors are true or not.
Furthermore, there are also doctors in Indonesia who want to get easy money by recommending surgeries when in actuality the patients don't need them. Having a reliable source of accurate medical information will help patients make more educated decisions about their health.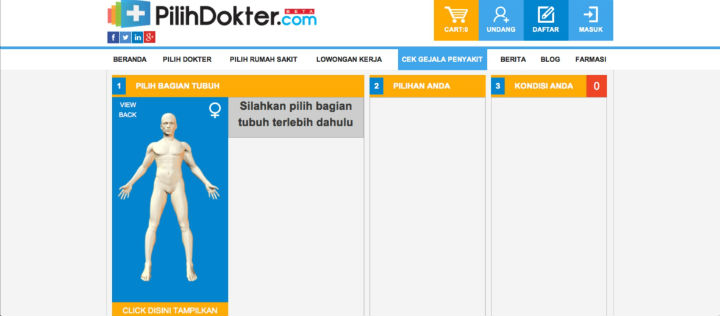 Pilih Dokter's addresses these problems through its features: the doctors' medical blogs, Pilih Dokter's own news section, and a health check up. The last feature is a cool one; you get to diagnose your health conditions online. First, you get to choose which body part you want to examine from the given picture, then there will be more detailed questions like which particular body part, what are the symptoms and so on. It's all very similar to WebMD—right down to the 3D human mannequin model (pictured above).
In the end, you can choose which estimated health conditions look most suitable to you. Pilih Dokter will then give detailed information about the conditions including common causes, symptoms, and suggested treatments. As part of this feature, Pilih Dokter also recommends suitable doctors as well as multivitamins for that condition. And yes, Pilih Dokter is the one selling these multivitamins to users.
Pilih Dokter was launched on December 11th and is still in beta. It is run by 10 employees. The team isn't focused on monetizing just yet. Hartanto explains that there are possible monetization schemes that they're considering in the future like ads and job posts.
Other players in Indonesia's medical industry are TanyaDok, TipsDokter, Aibilities, and MeetDoctor.
(Editing by Charlie Custer)