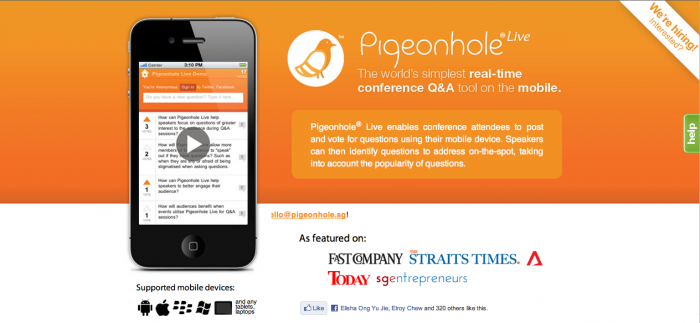 Pigeonhole Live is a mobile, real-time conference question and answer (Q&A) tool. It enables attendees at conferences to post and vote for questions using their mobile devices on mobile browsers. Speakers can then identify the more popular and important questions to address immediately at conferences, which allows a larger degree of transparency and communication between the audience and speakers.
Apart from addressing burning questions posed by the public, Pigeonhole Live eradicates those annoying people who would hog microphones at conferences — asking senseless questions and annoying statements, drowning those intelligent questions that could possibly enlighten the audience and resonate with the general crowd's interest. Pigeonhole Live also caters to shy people who prefer to be anonymous, perhaps less confident in their questions.
I spoke to co-founder of Pigeonhole Live, Joon Yeng, at the National University of Singapore (NUS) Enterprise Incubator where he told me that the idea came about when he and Lyon Lim (co-founder) attended a Singapore conference which was broadcast live from Silicon Valley. Halfway through the conference, the feed broke down and the audience was annoyed because they were unable to see the questions that were posted.
Pigeonhole Live has been used at more than 100 events so far. The startup team works a lot with local government agencies such as Infocomm Development Authority of Singapore (IDA), and the Singapore Ministry of Health, for their work plan seminars and town hall meetings. Due to the anonymity factor, it was effective at engaging the audience. A lot of questions were brought up, allowing transparent communication between the upper and lower management. Pigeonhole will also be used at the upcoming Demo Asia happening later this month.
The startup has also recently released a new polling feature which is currently being used by local ChannelNewAsia programme, Talking Point – The Vote, where people can vote in polls and add in their comments about political and cultural issues (see screenshots below). Users of Pigeonhole can either choose to disclose their identity through third-party logins such as Facebook, Twitter, or LinkedIn, or not do so at all.
Both Joon and Lyon are NUS Overseas Colleges innovative Local Entreprise Achiever Development (iLEAD) program graduates and their startup received S$50,000 in October 2010 under the YES! Startup fund.
Pigeonhole promises more features to be rolled out for a global audience in the near future and if you guys are keen, do visit their website to check it out.