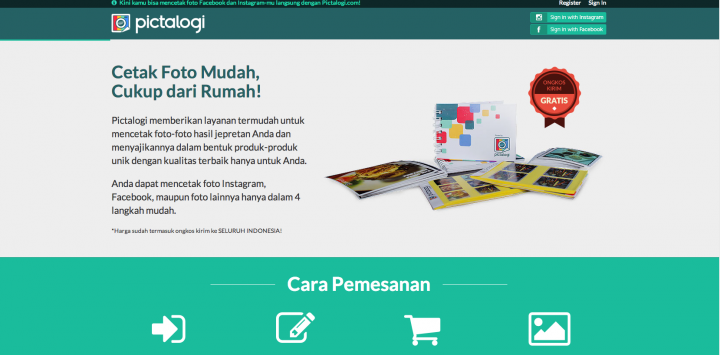 Photography has grown from being just something you do to save your memories to a real-time method of sharing your experiences with your friends. But that means we've lost the excitement of developing photos and framing them for use around your house. A number of startups are bringing back paper photos with a web-connected service.
In Indonesia, one of these is Pictalogi, which wants to help bring back photo nostalgia. The site allows you to log in with your Instagram or Facebook account and select images that you would like to print. Or you can upload your own images. You can choose rectangular or square photos, a photo album called a 'mini book', or a sticker book.
The mini book allows customers to print 30 of their favourite photos and caption them, as well as choose a theme and cover. Unfortunately, it's not possible to choose your own image for the cover and so you must choose from a limited collection that is provided. "We wanted to try and surprise our customers by offering a unique cover and content design for the mini book" points out Muhammad Fauzil Haqqi, the founder of Pictalogi.

Not just Instagram
The mini book costs Rp. 55,000 (US$5). The other options range from Rp 50,000 to Rp 60,000 (US$4.50 to $5.50) depending on the size and number of photos you would like to print. At the moment, the website only allows you to pay via bank transfer and they only accept BCA and Mandiri, but more payment options will be added soon. Shipping is free and will take two to three days depending on your area.
(See: This 'Instagram for babies' app helps parents make the ultimate child photo album)
Pictalogi's main competition is Printerous, which operates in Singapore, Indonesia, and several European countries. The Pictalogi team tells us that they are not worried of competition from Printerous as the local startup's price are lower while claiming to provide the same quality. Plus, Printerous only offers Instagram as a source for importing photos, while Pictalogi ties to three photo sources.
Haqqi and the Pictalogi team intends to survey potential customers and add new print products or features that allow users to edit photos online.
(Editing By Steven Millward and Terence Lee)