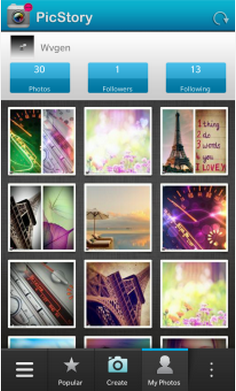 PicStory, a photo sharing app by Singapore-based Risto Mobile Solutions, has hit 4 million monthly active users, the company announced today.
Available on Android and BlackBerry, the app enables users to compose collages of their photos and apply filters to them. They can then share their creations on social networks like Facebook, Twitter, and BlackBerry Messenger.
Most of its users are from Indonesia and are on BlackBerry. That would explain why it is an early adopter of BlackBerry 10, being one of the first to port its app over to the new platform — just in time for its recent global launch.
PicStory may be in a precarious position though. In Indonesia, BlackBerry's dominance is waning, according to IDC, while Android adoption is increasing.
Risto will either have to find a way to increase PicStory's traction amongst Indonesian Android users or create their next big hit. Or hope that BlackBerry 10 somehow takes off.
Risto Mobile Solutions is started by Michael Boon, who before starting his company had stints in several technology companies. The company has offices in Singapore and Indonesia.