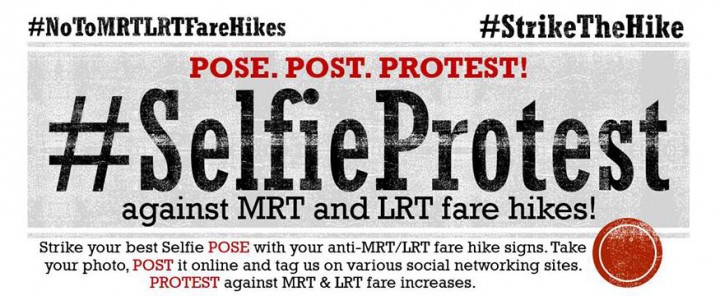 Have you ever heard of a "selfie"? For those who haven't, it's a photo you might take of yourself with your smartphone, generally involving some arm twisting and trajectory guesswork. That's a selfie. Generally they're posted to Facebook or Instagram. Nothing too serious.
Social protest
But this week, selfies are being used in the Philippines for something else – to protest against a possible PHP 10 ($0.23) fare increase on LRT and MRT train lines. Philippines' transportation secretary Emilio Abaya earlier announced that a PHP 5 ($0.11) fare hike may happen this August, which will be followed by another PHP 5 next year when the privatization plans are fulfilled.
A group who often protests about things like price hikes on transportation and oil prices has created accounts on Facebook , and Instagram under the name, "Strike the Hike." The group then called on citizens to snap a selfie photo together with an anti-MRT/LRT sign.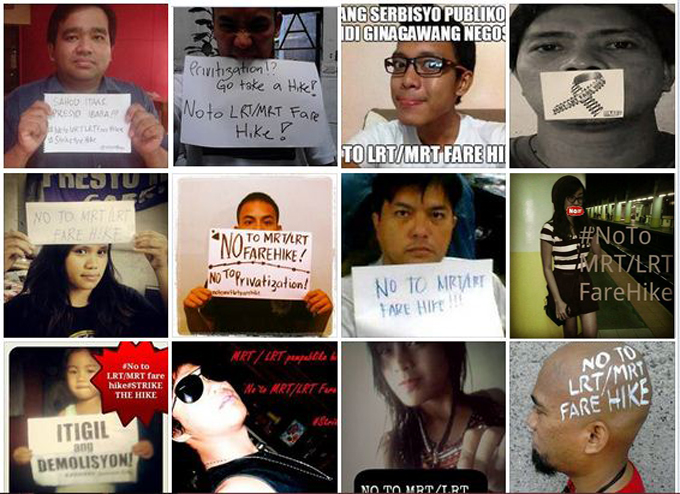 It is said that the Strike the Hike group, together with another protest group, Bagong Alyansang Makabayan, will present these photos to the Department of Transportation and Communications later this month. The hope is to convince the government that people do not want this fare hike.
As of writing, there are already 155 selfie protest photos in the Strike the Hike Facebook page, and 62 photo results in Instagram under the #strikethehike hashtag. That's not exactly a mass protest.
Worth a hike?
Currently, the fare for the MRT and the LRT trains – from the first to the last station – is PHP 15 ($0.15). In the latest state of the nation address by Philippine president Benigno Aquino III, he said that the actual cost of a whole trip in these trains is two to three times the amount that passengers are paying. This means the government is subsidizing almost PHP 20 ($0.46) to PHP 45 ($1.03) per trip.
A number of instances in the past few months have showed that the system is in need of more investment. In March, passengers were stuck in between stations when a train's engine failed. Given these hassles and frequent overcrowding, it is understandable that the people who ride a train everyday to work do not want to pay extra.
But come to think of it, train fares did not increase for a long time. Perhaps that's why the trains are not improving. I myself only take the train when in a rush – it's that inconvenient. But if a PHP 10 increase will mean more coaches, less packed people in the trains, and no faulty stops, I think it's worth an add. Sometimes, we just have to pay for a bit of added convenience.
Also, it'll mean there are fewer selfies on the web.
(Source: Inquirer)
(See also: Ready for your close-up? Here are 10 great selfie apps)
(Editing by: Steven Millward and Anh-Minh Do)