When news broke of telecommunications provider Philippine Long Distance Telephone Company (PLDT) buying 10 percent of ecommerce giant Rocket Internet, most of the ensuing local coverage was hyper-focused on outlining the terms of the deal.
PLDT would get 10 percent of Rocket Internet for a sticker price of US$445 million, which will give the company shares of the same class that RI has previously issued to other investors. The purchase would also grant PLDT one seat on Rocket Internet's supervisory board of nine.
While it would be extreme to call this coverage short-sighted, it is a bit narrow in scope. A deal as big as this one affects the entire landscape of financial technology in the Philippines, which although nascent, is still a relatively small industry.
This idea is most apparent in homegrown fin-tech company VMoney, which provides a host of ecommerce solutions ranging in everything from point of sale systems to white-labeled debit cards. Their suite of solutions falls under direct competition with the products that Rocket Internet and PLDT intend to jointly create. According to the press release sent to Tech in Asia,
Concurrent with the investment, PLDT and Rocket will jointly develop mobile and online
payment technologies and services in emerging markets. The partnership will leverage PLDT's experience and intellectual property in mobile payments and remittance platforms, together with Rocket's global technology platform, to provide products and services for the 'unbanked, uncarded and unconnected' population in emerging markets.
As for a timeline, PLDT and Rocket Internet will begin to roll out these fin-tech products within the year.
See: How an entrepreneur with two failed ventures went on to clone Rocket Internet's tech hub in Asia
Applauding the PLDT buy-in
Though not yet that well-known in the local and international tech scene, owing in part to CEO and co-founder Ralph Santos's (pictured below) aversion to frills – you'd be hard-pressed to catch him at a startup schmoozing event – VMoney services some of the biggest brands in the country. Their client roster includes Guess, Mossimo, cd-r king, Vans, Gold's Gym, Team Manila, Cold Stone Creamery, Mango, Agoda, and Samsung. Their partners include major banks like BPI and Security Bank, ecommerce platforms like DragonPay, and government institutions like the Department of Tourism.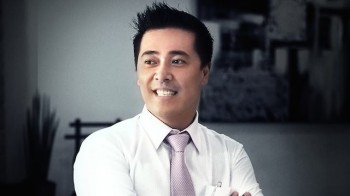 Santos was ecstatic when he heard news of PLDT's purchase. His reaction may surprise some, given that the joint partnership between PLDT and Rocket Internet is supposed to produce products that will eventually compete with VMoney's lineup, but therein lies the kicker: PLDT and Rocket Internet, Santos says, have yet to create what VMoney already has.
"What made it really exciting for me is that this news increases the valuation of VMoney tremendously," Santos shares. "This is an organization mandated to develop technology with several hundred million dollars to spend and attempt to build what we already have functional today and supporting the market. I'm extremely happy that we're way ahead of the curve."
According to Santos, this difference in technology skyrockets VMoney's valuation, which he had incidentally been working on at the time of the news, and sets a sky-high minimum figure he can use as a benchmark when speaking to investors and brokers.
VMoney's current valuation – including its assets, financials, revenue, customer base, and current standing and market potential – is pegged at US$105 million. The news of PLDT's 10 percent buy-in to Rocket Internet, which gives RI a valuation of about US$4.5 billion, surely gave it a boost.
"We not only more than doubled in value but were justified by the number of phone calls and emails I received – and are still receiving – from brokers and investment groups from all over the world," Santos says. "There was an immediate realization of our potential and an eagerness to partner with us."
Of course, Rocket Internet's valuation derives not just from the technology it will develop in partnership with PLDT that will pit it against VMoney, but from the financial health of its portfolio of companies around the world. While Santos acknowledges this, he argues that valuation for tech is a tough animal to crack – one more akin to an art than a science – but a good chunk of that picture will always come down to a company's technological advantage. It is thus fair to assess, Santos feels, VMoney's valuation as having dramatically risen as a result of Rocket Internet's bid to try to create similar technologies with PLDT.
A wake-up call to the world
While Santos feels that VMoney may have competitors for its component features, he thinks that there are none for the system as a whole.
"If you can imagine Paypal, Bancnet, Megalink, point of sale systems, VISA, MasterCard, Octopus, mobile payments, SMS, two-factor authentication, ForEx, pre-paid services, bills payment, banking, rewards and loyalty system and fund disbursement, all rolled into one system, that's VMoney," Santos says.
That VMoney is so encompassing is due, in part, to Santos's eclectic experience and education. He's had post-secondary education in computer science, electronics engineering, and systems analysis. Additionally, he has 15 years of experience in project management, specifically within software development and telecommunications. On top of all that, he's also a certified fraud examiner and a part-time auditor.
It's the sum of these things that gives him the edge in stewarding VMoney as an end-to-end financial solution. "I wouldn't say that I have the x-factor, but I do have a good combination of education, experience, knack for the industry, and intense focus," he admits. "All of this allows me to design, develop, and implement solutions in a more thorough state."
As an example, he cites the way he looks at newly-built features or products. "It undergoes a review from all angles – operations, security, customer benefits, revenue potential, competitiveness, and so on," he says. "And if all passes, it goes to market."
This breadth of the offerings that do pass Santos's strict requirements allows VMoney to service everyone from some of the large corporations mentioned earlier to government institutions and unbanked consumers, and should make the company attractive to third parties. Santos is quick to point out, however, that he is only trying to raise investment, not broker an acquisition.
"Financially we're okay and only seeking investment from a strategic perspective to springboard us to the next level," he says. "There is no vision to sell the company in the short or long term. I'm in this for the long haul and will stay at the helm to make sure that this truly helps this country and the Filipinos here and around the world."
The news has definitely stoked investor interest. When asked what he's been doing since word got out of PLDT's buy-in, Santos says, "Conference calls, emails, phone calls, emails, conference calls." He feels that PLDT's investment helps investors better situate VMoney in the broader context of financial technology:
This news woke up a lot of people and they now have a better understanding of how far ahead we are and the value of what we bring overall.