The smartphone penetration rate in the Philippines is still at a low fifteen percent according to a recent study by On Device Research. That pales in comparison to the total mobile penetration in the country of 101 percent. Smartphone penetration in the Philippines is also the lowest of all the countries in Southeast Asia, including Malaysia (80 percent), Thailand (49 percent), and Indonesia (23 percent).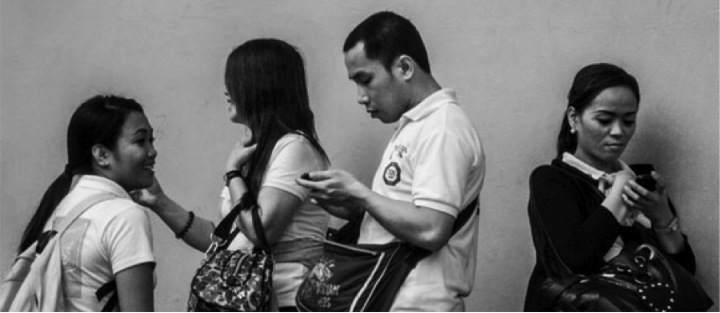 Those lucky enough to have a smartphone in the Philippines are not happy with how fast they can stream the latest viral videos of cute cats on YouTube. One-fourth of those surveyed from a statistically representative sample of Philippine mobile internet users were not satisfied with their internet speed.
The two major network operators for mobile internet in the Philippines are Smart Communications and Globe Telecom, which combine to make a total of 83 percent of the market share. Sun Cellular is a distant third.
Though most smartphone users avail of their cheaper internet plans – 44 percent spend less than US$12 a month (526 PhP) and only three percent spend more than US$41 (1,797 PhP) – more than half of the people surveyed had unlimited internet. Nonetheless, the term "unlimited" needs a qualifier – the internet is naturally limited by a given person's relative patience for its stop-and-go, spotty nature.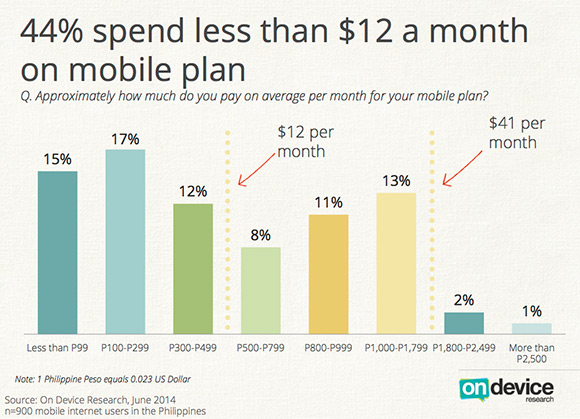 See: Myanmar's new mobile internet users embrace Android smartphones, pick Viber over Facebook
If you want to market to Filipinos, go mobile
Still, there's cause for optimism. Smartphone penetration is expected to more than triple to 50 percent by 2015. Another positive: 88 percent of the total mobile internet population is below the age of 34. This means that this demographic will have many more productive work years ahead of them (and, therefore, disposable income), which is music to the ears of brands who want to market to them while they're on the go.
The race to be the cell phone brand that dominates the Philippine market is wide open. At the moment, Samsung leads at 43 percent. No other cell phone manufacturer has larger than a 10 percent market share. Sony and Cherry Mobile each have seven percent, Lenovo has five percent, and LG, Alcatel, and MyPhone each have three percent.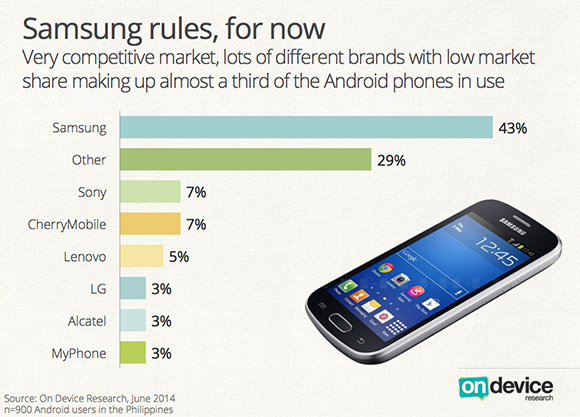 The battle for smartphone supremacy will be fought (and won) largely on price, given that 20 percent of the population lives on less than US$1.25 a day (54 PhP). For example, local brands Cherry Mobile, My Phone, and Star Mobile offer Android phones priced between US$50 and US$250 (2191 PhP to 10,958 PhP). This range is expected to be the sweet spot that will drive further adoption of smartphones.
International brands are also getting in on the action. Chinese brands Oppo and Xiaomi plan to expand into the Philippines, while Huawei is already offering their Ascend G6 to Filipinos. Priced at US$228 (9,994 PhP), which is half the cost of the previous model known as the P6, the Ascend G6 represents the Chinese firm's bid to capture 10 percent of the market for mid-priced smartphones.
In terms of social media, the report finds that 94 percent of internet users in the Philippines use Facebook, compared to only 54 percent in the United States. Facebook chat reigns supreme at 82 percent, while Viber and Skype each have 27 percent. Both WhatsApp and WeChat haven't even broken 20 percent in the Philippines.
Of most note to marketers is the fact that Filipinos spend more than four hours a day across all their social media channels. This figure makes the Philippines the most engaged populace in the entire Asia Pacific region. So while the country is often celebrated as the social media capital of the world, perhaps that title undersells the promise of our market.