Fast food giant Jollibee recently had to shut down 72 of its 2,244 stores in the Philippines due to a problem caused by their new IT system. While this glitch was a costly one – estimates put their daily losses at US$4 million per day – it is not without value. The rise of the Twitter hashtag #ChickenSad, which is a play on Jollibee's popular menu item Chicken Joy, is a lesson learned for the chain and a case study for Philippine entrepreneurs on the importance of transparency in the age of social media.
Is it #ChickenSad or #ChickenMad?
At first glance, Jollibee's brand has taken a beating via #ChickenSad. Philippines is a social media capital of the world, and it has gang-filled online ghettoes and down-on-your-luck neighborhoods where no one – not even a fast food giant – can walk out unscathed:
Why do I have this feeling that #Jollibee will soon increase menu prices (if that system upgrade is true) #ChickenSad— Ruth dela Cruz (@ruthilicious) August 8, 2014
How big of an impact will #ChickenSad be to Jollibee's stock price over the next few weeks? @stocksmartsph #PSE— marvin germo (@marvingermo) August 11, 2014
Dude, 72 stores temporarily closed? This #ChickenSad drama is fo real…— John Paul Manahan (@misterjpmanahan) August 8, 2014
Despite this outpouring of #ChickenSad sentiment, Jollibee has been mostly mum. They issued a short statement to the Philippine Stock Exchange reassuring their investors that the firm has an ample supply of raw materials. They did not add anything on social media, continuing only their promotional posts, in addition to a few canned responses that they used over and over again:
@beavelazco Rest assured that we are committed to having all our products available again within a few days in all our affected stores.— Jollibee (@Jollibee) August 15, 2014
Jonha Revesencio (pictured below), a digital marketer from digital publishing platform RebelMouse, says that company has a responsibility to publicly acknowledge the problem in detail. Their lack of a thorough response, Revesencio says, gave birth to #ChickenSad and fueled its rise.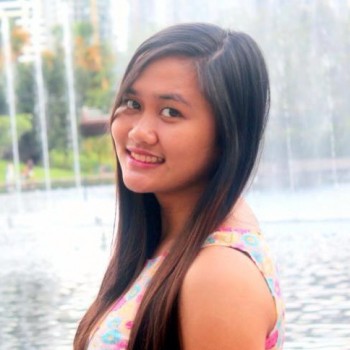 "For every action, there is always an equal and opposite reaction," Revesencio quotes, before adding, "or social media overreaction."
According to Revesencio, consumers are free of blame. She thinks that Jollibee's current silence is emblematic of a larger problem. "Whenever you look at any major brand's post, the story is still the same," she says. "They're still stuck in one-way conversation, constantly finding ways and opportunities to promote and not to listen."
But lucky for us, Revesencio was listening. Using a sentiment analysis tool, she found that the overall sentiment expressed via #ChickenSad was negative, but that's only because of the way it classifies the various emotions.
"Most netizens expressed that they're 'sad' as opposed to 'mad'," Revesencio says. "When you're going to analyze the sentiments, the word 'sad' is automatically considered as a 'negative' sentiment by the system by default."
What's more surprising is that some of the sentiments were positive. "You will find loyal customers craving and raving even more about a product that's not available but they have always loved," Revesencio says.
Revesencio compares the current situation to what happened when the first Jollibee store opened in Singapore, which has a large population of overseas Filipino workers. "Filipinos were disappointed with the lack of space and not being able to eat in their 'favorite fast food store,' and that has only served to increase their appetite (all pun intended) for the brand and its products."
See: What most people don't tell you about how your startup can benefit from social media
A page from the Buffer playbook
In a great example of unintended consequences, Revesencio claims that the 72-store snafu will actually help Jollibee in the long run. The people who tweeted their thoughts via #ChickenSad had a strange, modern epiphany: something as ubiquitous as Jollibee (2,244 stores nationwide!) can actually be taken away from them, and that's not good when you like their burgers and chicken. Now who among these people would ever take Jollibee for granted again?
Revesencio did not mince her words. "I stand firmly in my belief that while the mishap has caused sales to decrease for Jollibee and its shareholders, the mishap has actually helped shape and strengthen the love for the brand more than ever."
In other words, Jollibee was not in the wrong for going silent, but because they failed to realize that #ChickenSad was an opportunity. They could have played into how much Filipinos missed their food and deliberately driven their brand's status even higher. This kind of approach – that of a company transparently discussing its mess ups – can be taken directly out of the Buffer playbook.
Buffer is a social media tool that allows people to schedule their posts in advance. When the company was hacked in October of 2013, the startup provided constant status updates to their customers. They made it clear that transparency and communication was just as important to them as addressing the issues that the hacking revealed and upgrading the security systems, which Buffer did in short order.
"Obviously providing constant updates requires more logistics and different layers of communication for major corporations," Revesencio concedes. "However, the main thing is that they should strive to achieve the agility, flexibility, and transparency that smaller companies excel in without risking their organization's processes."
As an example, Revesencio defers to the concept of brand loyalty. Every brand has its loyalest followers (or what others might call "fanboys"), and a crisis like the one that Jollibee experienced is the quickest way to identify them: they will be the ones cheering you on in the darkest hours.
You should find ways to reward them for their support. According to Revesencio, doing so has two simultaneous benefits. "You can identify core advocates and loyal customers, and reverse the spotlight to them instead of the situation."
Revesencio says that the "rewards" can be as simple as genuinely responding to them on social media. For example, she recommends that brands retweet the support from their ardent followers to increase their advocates' exposure and simultaneously increase their brand's love.
If Jollibee wants to take it a step further, they can bring the online conversation into the real world. This is a favorite tactic of Samsung, which gave one netizen the only customized Galaxy S3 in Canada for – wait for it – engaging the company in a friendly drawing exchange on Twitter that went viral on Reddit (the man drew a dragon breathing out fire, while Samsung responded with a hopping kangaroo).
"They don't need to go as far as give them free products (since they're in scarcity, remember? Giving them Chicken Joy will only add salt to the 'injury')," Revesencio says, "so maybe another way is to give them gift cards, and throw an exclusive #ChickenSadNoMore party when all this #ChickenSad issue is over."
Revesencio says that these activities are more than PR politicking. To her, it's a genuine way to find and connect with your unofficial ambassadors on social media, who, more often than not, can be game-changers for a company. "The people who tweeted were not necessarily 'influencers' but common consumers who speak about an issue that many people feel so strongly towards, making each tweet easily amplified."
Revesencio thinks there are no influencers or thought leaders when it comes to disasters. "There are only common users who are easily empowered unless brands step in," she says. "Instead of trying to control the conversation, brands need to find a way to be part of it."